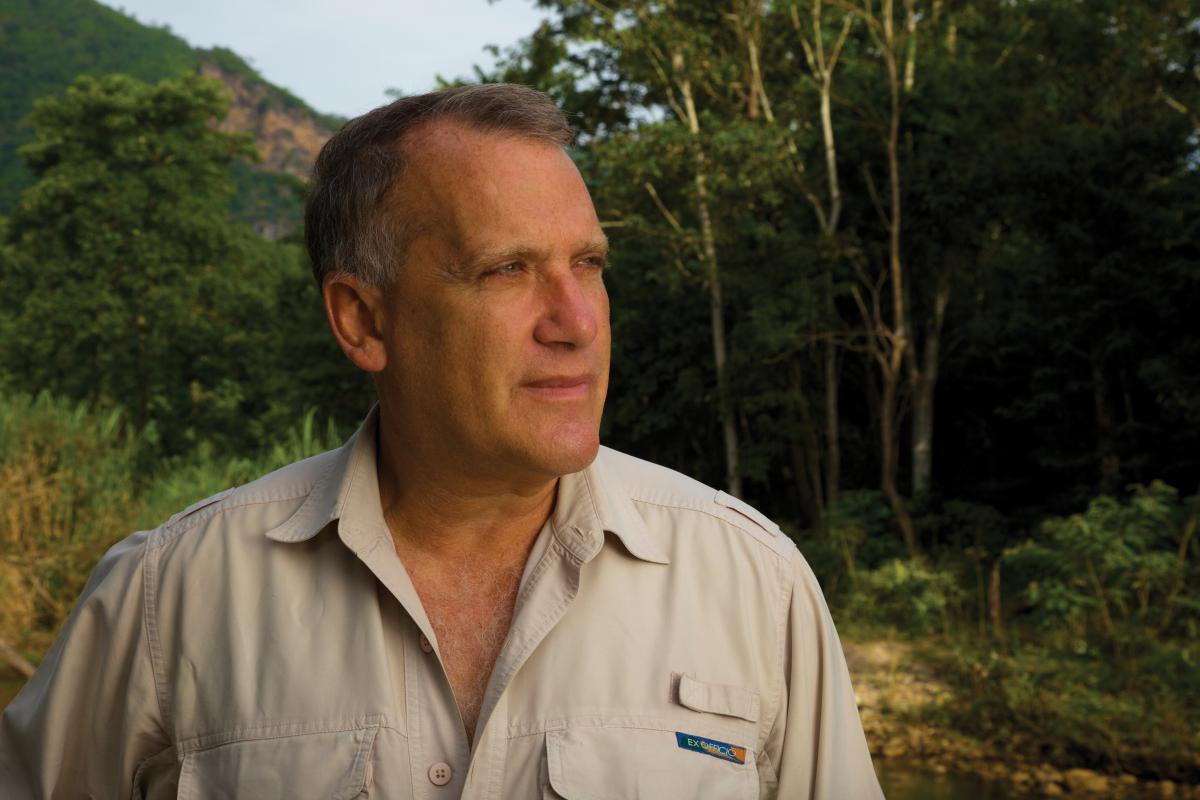 MEMPHIS, TN (Aug. 7, 2018) — It is with a heavy heart and immense sadness that the Stuttering Foundation announces the death of our longtime board member, spokesman and friend, Dr. Alan Rabinowitz. Dr. Rabinowitz tragically passed away on August 5 at a Manhattan hospital at age 64 after a lengthy battle with leukemia. An internationally renowned conservationist, Alan was the CEO and Chief Scientist of Panthera, a U.S-based nonprofit organization dedicated to preserving the world's 40 wild cat species. Dubbed the "Indiana Jones of Wildlife Protection" by Time, his high-profile career brought him not only to all corners of the globe fighting for wildlife conservation, but also into the top media outlets throughout the world.
Dr. Rabinowitz served as a board member of the Stuttering Foundation as well as having been a Spokesman for the foundation., "Nobody knew how to stand up for those without a voice better than Alan Rabinowitz," said Jane Fraser, president of the Stuttering Foundation. "He left a profound legacy in both the animal and stuttering communities."
Whether at a function about wildlife conservation  or one concerning stuttering, the New York City native always recounted his powerful personal anecdote about his childhood stuttering. His stuttering was so severe that he was placed into a special education classroom at his public elementary school. The young boy's only outlet was being able to speak fluently to animals. His father realized how his speaking to animals brought Alan fluency and regularly brought him to the famed Bronx zoo. When Dr. Rabinowitz would speak fluently to the tigers and jaguars in their cages, he would always tell them that if he were ever by some miracle able to overcame his stuttering that he would use the gift of a voice to fight for the jaguars, tigers and other animals of the world. He promised to be their voice. He most definitely fulfilled his promise.
Alan Rabinowitz graduated from McDaniel College in 1974 with degrees in biology and chemistry, and from there went on to the University of Tennessee, receiving his M.A. in ecology in 1978 and his Ph.D in ecology in 1981.
The zoological career of Dr. Rabinowitz is far too expansive to cover in one article. While working in Myanmar in 1997, he identified four new species of mammals; his work in Myanmar ultimately resulted in establishing the Hukawng Valley Tiger Reserve in northern Myanmar, which is roughly the same size as the state of Vermont. More recently, over the course of several years he chiefly responsible for the establishment of  the "Jaguar Corridor", which begins in Mexico and runs through Argentina, encompassing 13 of 18 nations in which jaguars breed.
When summing up the fusion of his experiences as a person who stutters and a zoologist at a Stuttering Foundation workshop, he said, "For the past 25 years of my life, I have lived in and explored some of the most remote places on earth. I have lived for days in caves chasing bats, I have captured and tracked bears, jaguars, leopards, tigers, and rhinos. I have discovered new animal species in northern Burma and in the cloud forests of the Annamite Mountains. I have documented lost cultures such as the Taron, the world's only Mongoloid pygmies. I have been called the 'Indiana Jones of Wildlife' by Time magazine and given lectures all over the world to thousands of people. Yet not a year has passed, not a country traveled in, when I have not felt again the little stuttering, insecure boy inside who'd come home from school and hide in a corner of his closet. That boy is never far from the surface."
Alan told his inspiring story in a 2011 Stuttering Foundation DVD entitled Stuttering and the Big Cats, which has been widely used in public school speech therapy programs. At the time of the DVD's release, Jane Fraser, president of the Stuttering Foundation, said, "Alan's courage is particularly inspiring to young people whose career paths have yet to be decided and for whom stuttering often seems an insurmountable obstacle. Through hard work, perseverance and dedication to his true passions, Alan never let stuttering hold him back from his quest to help endangered animals. We are proud to make this video available and hope that every young person who stutters has an opportunity to hear Alan's story."
Dr. Rabinowitz was the author of seven books on wildlife conservation, including the 2014 children's book A Boy and a Jaguar, which detailed his personal experience as a young boy who would always promise the caged big cats at the zoo that he would be their voice if he ever gained his own voice
While the Stuttering Foundation is grateful for the many years of Dr. Alan Rabinowitz's faithful friendship, his service as a spokesman and as a longtime board member as well as serving in other untitled capacities over the years, we are in awe of all of the amazing accomplishments he achieved during his career through never giving up and never losing sight of the promise he made so many years ago to the caged big cats at the Bronx Zoo. It is probable that all of his successes will not be recounted in news articles on account of the fact that so many of them may not be known.
Both the worldwide stuttering community and the big cats of the world have lost a tireless advocate. The Stuttering Foundation sends our heartfelt sympathies go out to Alan's wife, son and daughter. The stuttering community knows that his unbelievable impact in saving the big cats of the world was just as great as his impact in helping his fellow people who stutter.
For more information on Alan Rabinowitz, click here
###
Foundation Spokesperson Jane Fraser
Jane Fraser is president of the Stuttering Foundation and co-author of If Your Child Stutters: A Guide for Parents, 8th edition. She is also vice president of the Action for Stammering Children, Michael Palin Centre in London.
About the Foundation
Malcolm Fraser, a successful businessman who struggled with stuttering, established and endowed the nonprofit Stuttering Foundation in 1947. The Foundation provides free online resources at www.StutteringHelp.org for people who stutter and their families as well as support for research into the causes of stuttering.
Editor's Note: Jane Fraser is available for interviews via telephone.
Contact: Greg Wilson 
greg@CurleyCompany.com