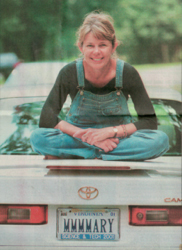 Mary E. Weadon was deeply involved in raising awareness of stuttering. Memorial gifts in her memory can be made in the following ways:
Mail a check in her memory to:
Stuttering Foundation of America
1805 Moriah Woods Boulevard, Suite 3
Memphis, TN 38117
or click here to make an online donation
or call toll-free 800-992-9392 and make a donation by phone using a credit card

The Stuttering Foundation is a 501(c)(3) organization. Gifts are tax-deductible.
Mary E. Weadon
September 25, 1949 — December 11, 2020
Mary E. Weadon, 71, a former teacher and long-time resident of Herndon, Virginia, took her last journey from this world on December 11, 2020. Mary was a special education teacher for more than 30 years, a field she was drawn to because of her experiences growing up as a person who stutters.
Mary was also deeply involved in raising awareness about stuttering and was one of the founding members of a local stuttering therapy and support group. It was with this group that she explored creative ideas about ways to increase awareness of stuttering, such as creating bulletin boards at the local library and hosting beach trips for the group where they would focus on stuttering openly and building a supportive community.