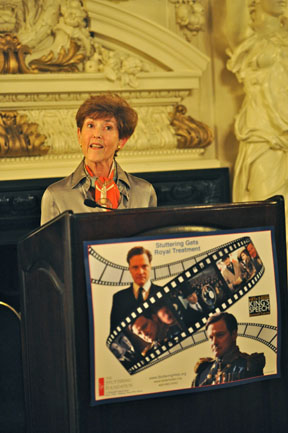 Stuttering. This often misunderstood disability affects over three million Americans. And despite decades of research, both basic and clinical, the causes are still largely unknown.
The history of the Foundation is the story of how one person with a significant stutter led a successful life and made a lasting difference in the lives of others with the same disability.
In 1947, Malcolm Fraser, a young man in Memphis, Tennessee, decided to do what he could to help others who stutter. He knew about this disability from personal, often painful experience. He met with one of the foremost authorities of the day, Dr. Charles Van Riper, to discuss founding a nonprofit charitable organization to help those who stutter.
The organization Fraser founded became today's Stuttering Foundation of America. Its goal was to provide the best and most up-to-date information and help available for the prevention of stuttering in young children and the most effective treatment available for teenagers and adults.
More than 70 years later, the Stuttering Foundation continues to pursue these same goals, although the tools to accomplish them are more varied and widespread. As it did when Malcolm Fraser turned his dream into reality, the Foundation dedicates itself to the contemporary concerns of those who stutter.
The Stuttering Foundation of America is a tax-exempt organization under section 501(c)(3) of the Internal Revenue Code and is classified as a private operating foundation as defined in section 4942(j)(3).
Charitable contributions and bequests to the Foundation are tax deductible, subject to limitations under the Code.