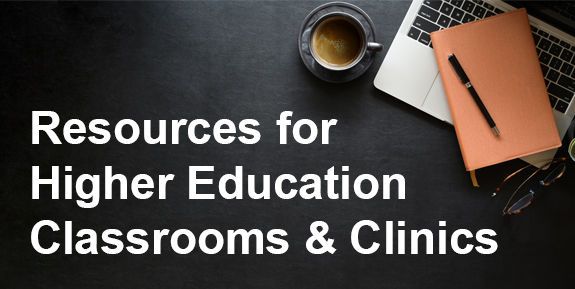 Fiberoptic Laryngoscopy - Study on two males who stutter.

Classroom Adoption - Special group rates are available on our books and streaming videos. Click here for an examples of streaming video packages that universities are currently using. For more information, please email us at info@stutteringhelp.org.
Podcasts - Timely podcasts offer a great way to provide supplemental material to your students.
Counseling - Resources to teach counseling as an integral part of stuttering therapy.
Virtual Learning - These live, online workshops offer your students an opportunity to interact with professionals in the field.
Streaming Video - Once you and your students purchase a video, you will own it forever. Plus, we can even put together customized video bundles to complement your lessons. Email us at info@stutteringhelp.org.
Magazines - Our free, online magazine provides excellent content for assignments and group discussions.
Online CEUs - Professors and clinic instructors can earn ASHA CEUs in the area of fluency disorders.
Brochures - Our free, downloadable brochures are perfect to handout in your clinic.
Store - A great way for your students to begin to build their library with our low-cost resources.
Social Media - Follow us for the latest news and research. Please ask your students to follow us as well.