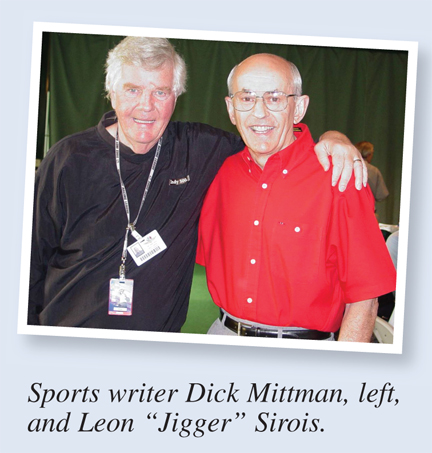 By Joan Warner
Like David Seidler said in his Oscar acceptance speech for The King's Speech - "We have a voice. We have been heard"- Stuttering Foundation friend, patron, and unofficial Public Library Ambassador Leon 'Jigger' Sirois has been espousing that sentiment for years. Tirelessly working with his late-in-life found fluency on behalf of the Stuttering Foundation and all people who stutter, he too says we can be heard.
And if there is one thing Jigger does not know the meaning of, it is this: dreaming small.
Jigger has set his heart on winning Oprah's heart in her final 25th season of The Oprah Show. Now, he isn't unrealistic, and never self-serving, so the aim is not to appear on Oprah himself.
All he hopes for is a mention of this Foundation's website and 800 helpline during one of her final shows. The Oprah Show has a worldwide audience just waiting to hear that we can provide help.
And his plan to woo Oprah is not whimsical. For more than six months Jigger has concentrated his efforts on donating – in Oprah's honor – Foundation resources, books and DVDs, to public libraries across the country in communities he hopes will capture her attention and her heart.
With Oprah's journey a public record, one doesn't have to do much digging to know her hometown, high school, first job, progress to Chicago and beyond. Therefore, appealing to her personal interest in communities she has connections to and harbors fondness for is the goal.
Since November 2010, Jigger and his wife, Juanita, have donated nearly 600 books and DVDs valued at almost $4,000 in support of the work the Stuttering Foundation does. But more importantly, these resources are now accessible to the public in diverse communities while simultaneously continuing to vitalize our treasured and irreplaceable public libraries.
Oprah, are you listening? Jigger sounds like a man with the type of character you would find room to embrace. On his behalf, we hope you can honor his dream, as he tries to honor you, to benefit countless children, teens, and adults worldwide.
To date, the resources have been donated to: The Chicago Public Library, Los Angeles Public Library, The Eudora Welty Library in Jackson and Attala County Library in Kosciusko, Mississippi (Oprah's hometown), The Milwaukee Public Library, and public libraries in Nashville, New York, Detroit, Jacksonville (Fla.), Denver, Albuquerque, the Hennepin County (Minnetonka, Minn.) Library, and the Miami-Dade Public Library, a total of  nearly 500 branch locations across the country.
Additional libraries slated to receive resources in honor of Oprah are currently in the works as we go to press.
So, we say bravo to Jigger for dreaming big. And bravo to our public libraries – institutions of learning, keepers of the past, providers of ever-changing resources for the future. Dare we say bravo in advance for Oprah's support? We hope to be heard!
Race Car Driver Still Revving to be Heard
For additional information on how Jigger has never dreamt small, read about our irrepressible Ambassador in our Summer 2007 Newsletter and our Winter 2008 Newsletter (www.StutteringHelp.org and click 'Newsletter' link). From professional car racing to conquering his life-long stuttering to advocating for early intervention for children who stutter, to leading Toastmasters with numerous awards, this gentleman cannot bother with "not likely to happen." He always dreams big and envisions success!
The comments from libraries give gracious accolades! "Jigger is delightful…" "…we are so pleased…" "…it is our honor to provide these resources…" "…how fortunate we are to receive updated materials…"
A special thanks to all public libraries across the country for supporting National Stuttering Awareness Week May 9-15, this year. We appreciate all libraries for reaching out to patrons. Our selected resources are free of any charge to any public library by calling 800-992-9392. Special Library Ambassador Jigger simply likes to make this his way of supporting the Foundation while honoring people and benefiting the libraries.