Photo caption: Rita's Chairman Tom Christopoul (right) presents Stuttering Foundation President Jane Fraser (second from right) with a $10,000 donation on behalf of American Idol finalist Lazaro Arbos. They are joined by Lazaro's parents Gisela Andraca and Reinaldo (left) at the Rita's Italian Ice in Naples, Fla. Download photo
For Immediate Release
Contact: Greg Wilson
gregwilsonpr@gmail.com

571-239-7474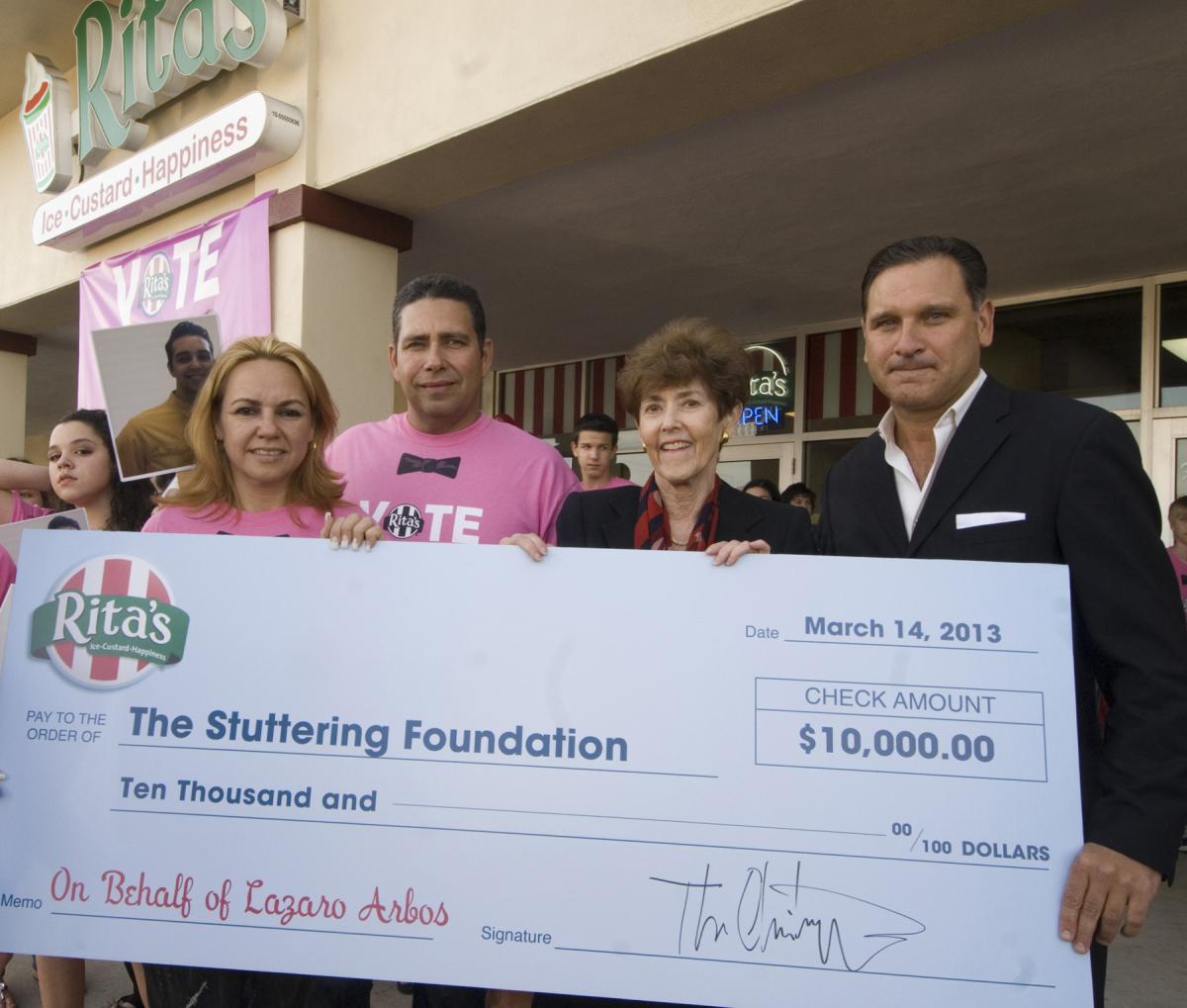 Naples, Fla. (March 14, 2013) – Stuttering Foundation president Jane Fraser accepted a $10,000 donation today from Tom Christopoul, Chairman of Rita's Italian Ice. Mr. Christopoul presented Ms. Fraser with the donation at Rita's Naples outlet, where American Idol top ten finalist Lazaro Arbos worked as a Treat Team Member. The donation took place during a visit to Arbos' former workplace, and in front American Idol cameras and a crowd of pink-shirted fans.
The Stuttering Foundation has been rooting for Arbos on its Facebook page since his American Idol audition several weeks ago, and has received hundreds of notes and letters of support from people who stutter, and their families. "The entire stuttering community is cheering for Lazaro," said Ms. Fraser. "That's three million voters in the U.S. alone!"
"We are touched by the kindness of Mr. Christopoul and the Rita's Italian Ice family for this donation on behalf of Lazaro Arbos," said Fraser. "The courage of Lazaro Arbos combined with the generosity of people like Rita's Tom Christopoul, allows us to continue our mission of helping those who stutter and their families, and educating the public about the myths and mysteries of stuttering."
"We couldn't be more proud of Lazaro and appreciate all Rita's fans who voted for him," said Mr. Christopoul. "We encourage others like Lazaro to find their voice, and are pleased to donate $10,000 to the Stuttering Foundation on behalf of Lazaro Arbos in support of his determination and strength. All our bets are on Lazaro to win and we are wishing him Ice, Custard, Happiness from Rita's!"
Foundation Spokesperson Jane Fraser

Jane Fraser is president of The Stuttering Foundation and co-author of If Your Child Stutters: A Guide for Parents, 8th edition. She is also vice president of the Action for Stammering Children, Michael Palin Centre, London.
About the Stuttering Foundation

Malcolm Fraser, a successful businessman and stutterer, went on to establish and endow the nonprofit Stuttering Foundation in 1947. The Stuttering Foundation provides a toll-free helpline, 800-992-9392, and free online resources on its Website, www.StutteringHelp.org, including services, referrals and support to people who stutter and their families, as well as support for research into the causes of stuttering. Please visit us at www.StutteringHelp.org.
About Rita's Franchise Company
Rita's Franchise Company, founded in 1984 and headquartered in Trevose, PA, is the largest Italian Ice concept in the United States, currently operating in 20 states with over 625 outlets. Rita's presently has international outlets opening in China, India, ABC islands (Aruba, Bonaire and Curacao), and Canada, and is continuing to grow nationally and internationally through franchise opportunities.
The popular chain offers a variety of frozen treats including its famous Italian Ice, made fresh daily with real fruit, available in over sixty flavors, Old-Fashioned Frozen Custard, Milkshakes, Sundaes with Unlimited Toppings, Light Custard, Frozen Custard Cakes, Custard Cookie Sandwiches made with OREO®, layered Gelati as well as its signature Misto® and Blendini® creations. Since 1984, "Ice, Custard, Happiness," has been the brand's motto, and almost thirty years later, Rita's is still dedicated to serving up a big dose of happiness with their freshly made, delicious, custom treats, in a fun-filled atmosphere.
Rita's topped the Zagat Survey for the #1 Best Quick Refreshment, Ice Cream/Custard for 2012, and was named one of the Top 25 Franchise High Performers by the Wall Street Journal's "Startup Journal" and named Top 100 on Entrepreneur Magazine's "Top 500 Franchise Rankings" in 2012.  For more information about Rita's please call 1-800-677-7482 or visit www.ritasice.com or www.ownaritas.com