For Immediate Release
Contact: Greg Wilson
greg@curleycompany.com
571-239-7474
Photo caption: Stuttering Foundation President Jane Fraser with RCSLT President Sir George Cox. Download photo.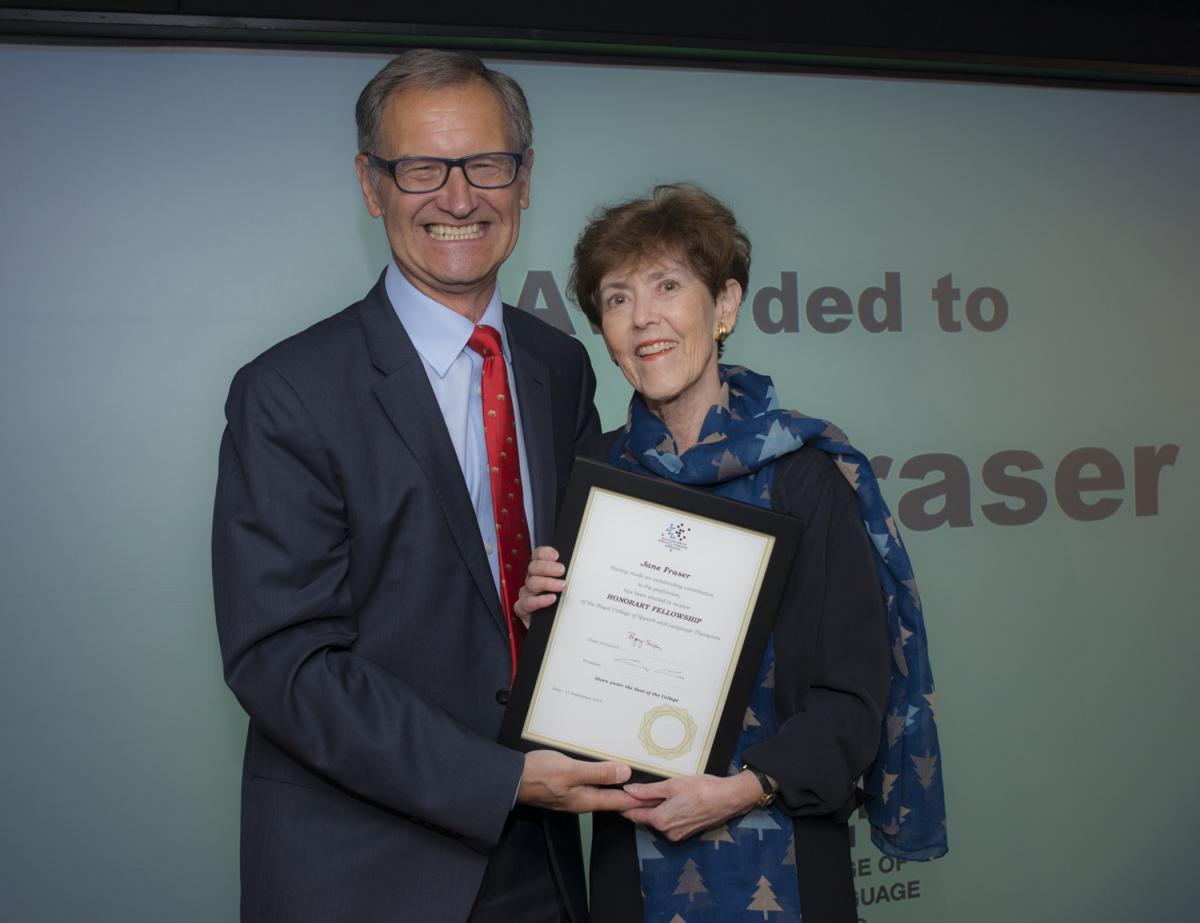 MEMPHIS, Tenn. (September 17, 2014) — Stuttering Foundation President Jane Fraser today received an Honorary Fellowship from the Royal College of Speech & Language Therapists, headquartered in the UK. Fraser was selected for her distinguished service in promoting the profession of speech and language therapy. The awards ceremony was held at Leeds Metropolitan University in England.
"In carrying on my father Malcolm Fraser's work with the Stuttering Foundation," said Fraser, "I have been fortunate to learn from and work with many pioneering therapists, including Charles Van Riper, Dean Williams, Lena Rustin, and Elisabeth Versteegh-Vermeij to name a few.
"In remembering these outstanding people and others who have had a seminal influence on my thinking and work, I am particularly humbled by this honour from the most highly respected professional organisation in the field."
Since 1981, Fraser has served as president of the Foundation, started by her father more than six decades ago.
###
Editor's Note: Jane is available for interviews via Skype, telephone, or in person. For additional information, visit media resources on our website.
Foundation Spokesperson Jane Fraser
Jane Fraser is president of The Stuttering Foundation and co-author of If Your Child Stutters: A Guide for Parents, 8th edition. She is also vice president of the Action for Stammering Children, Michael Palin Centre, London. Ms. Fraser is available for interviews by contacting Greg Wilson, 571-239-7474 or email: greg@curleycompany.com. Download a picture of Jane Fraser.
About the Foundation

Malcolm Fraser, a successful businessman and stutterer, established and endowed the nonprofit Stuttering Foundation in 1947. The Stuttering Foundation provides a toll-free helpline, 800-992-9392, and free online resources on its Website, www.StutteringHelp.org, including services, referrals and support to people who stutter and their families, as well as support for research into the causes of stuttering. Please visit us at www.StutteringHelp.org.