Camp Shout Out Soared to New Heights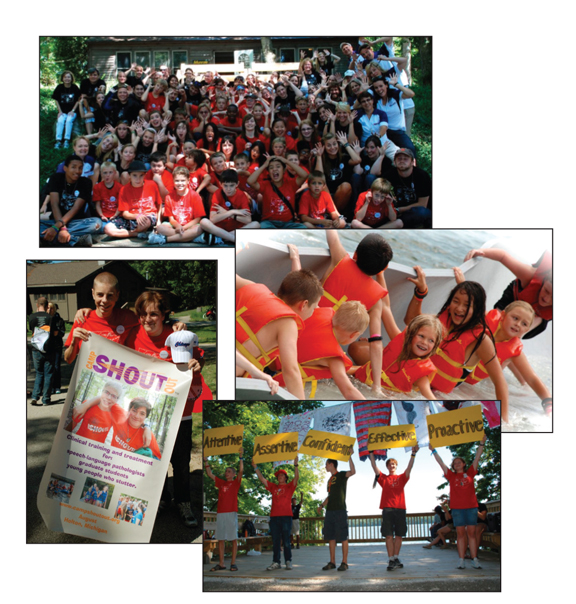 By Julie Raynor, M.A., CCC-SLP
Eighty-five participants from all over the world came together in Michigan this summer to participate in the 2nd annual
Camp Shout Out
program.  Whether orienteering, boating, swimming, dancing, crafting, rock wall climbing, making ice cream, hula hooping or flying down the zip line, the goal was the same - "Building Great Communicators."
Campers focused on attentive, assertive, confident, effective and pro-active aspects of communication as they accomplished personal goals, often assisted by teens ages 16-18 enrolled in the first Leaders in Training program. At the culmination of this session themed "Treasure Hunt," parents and family members joined us for a day of fun and education.
This year's camp was tremendous, in part because we had a year under our belts and did much planning throughout the year.  Dr. Stephen Tasko and Ron Kelley from Western Michigan University joined us again as well as 10 undergrad volunteers from WMU and Michigan State.  We are working hard to get college students in the field of communication disorders excited about fluency.
It was fun to see the participants surprise during introductions when Kristin Chmela stated that she and Kevin Eldridge met more than 20 years ago at a Stuttering Foundation Workshop where June Campbell was one of the facilitators.
We used the materials the Stuttering Foundation sent to make parent education binders to send home with each family. The parents were very grateful.
Our Time Marks 5th Season
By Taro Alexander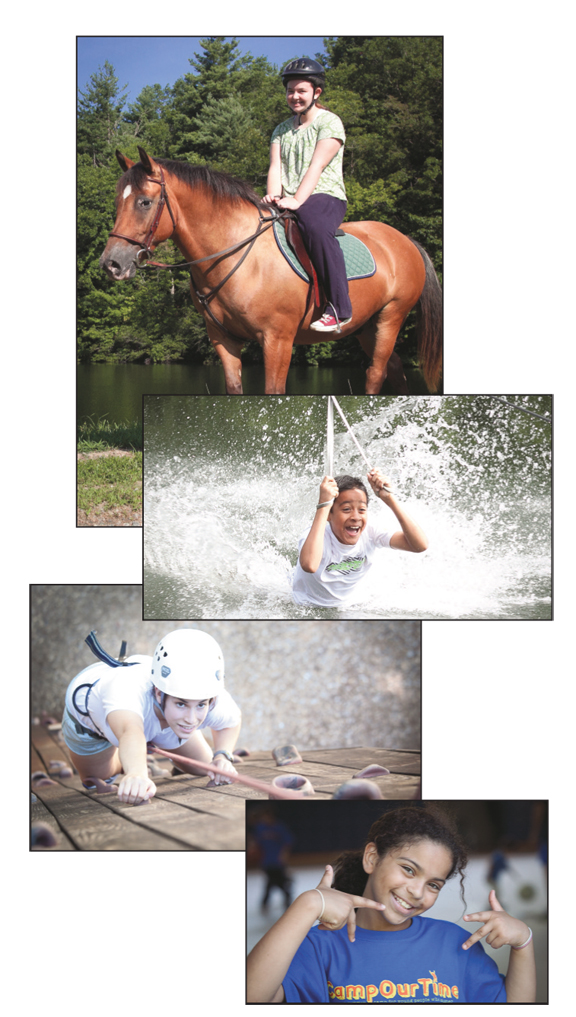 In August 2012, 86 young people from around the nation and abroad attended the momentous 5th season of Camp Our Time, a sleep-away summer camp nestled in the majestic Blue Ridge Mountains of North Carolina. Camp Our Time welcomed kids who stutter, as well as their young family members and friends, ages 8-18.  Campers gained priceless friendships, communication skills, and self-confidence.  They left camp informed and empowered to confidently enter their upcoming school year.  Many thanks to the SFA for its partnership!
Campers spent their fun-filled days soaking up the sun in the lake, mastering the rock-climbing wall, performing in a play, joining the basketball team, discovering nature, creating arts and crafts, receiving speech therapy, and much more.  No matter what the activity was, campers had the opportunity to express themselves in their own time, without fear of judgment and ridicule. 
As one camper who stutters, age 12, described the program's impact, "My confidence before Camp Our Time was really bad.  I was embarrassed to talk to anybody except my really good friends.  Now my confidence is much better.  I feel like I can be someone and be a part of this world." 
To learn more about Camp Our Time, or to enroll in next year's two-week session (Aug. 4-18, 2013), please visit
www.campourtime.org
.
From the Fall 2012 Newsletter