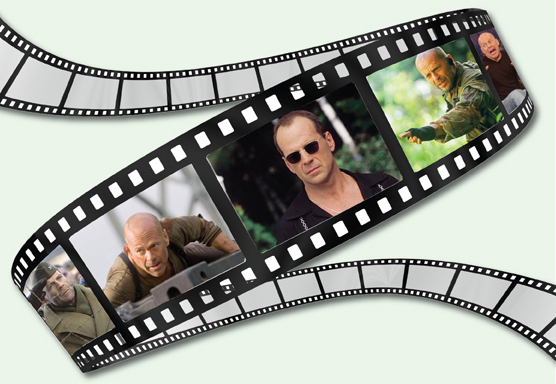 Bruce Willis interpreto la voz del bebe Mickey en la pelicula "Look who is talking! º  (1Mira quien habla!).  A Bruce Willis se le considera un actor de primera categoria. Sin embargo, pocos saben que lucho con la tartamudez durante los primeros veinte anos de su vida.
Walter Bruce Williams nacio en Alemania  Occidental en 1955. Su madre, Marienne, era alemana, y su padre, David Willis, era soldado americano. La familia se asentø en e pueblo del padre, Penns Grove, estado de New Jersey, en 1957, y tuvieron otros tres hijos.
Luego de darse a conocer en1985 como el personaje David Addisa en el muy popular show "Moonlighting" (Pluriempleo) el actor menciono en ciertas ocasiones sus pasadas batallas con la tartamudez en entrevistas para la prensa y la television.
En el libro de 1997 "Bruce Willis: Unauthorized biography" ( Bruce Willis: Biografiâ no autorizada)  el ingles John Parker, cita las palabras siguientes de Willis: "Apenas podia hablar. Me llevaba tres minutos el terminar una frase. Resultaba aplastante para cualquiera que quisiera expresarse, que quisiera que le escucharan, y que sin embargo no lo lograba. Era aterrador. Pero cuando interpretaba un personaje, por ejemplo en el teatro, dejaba de tartamudear. Algo extraordinario".
Parker anade que Willis tenia un metodo concreto para superar la tartamudez por medio de una serie de ejercicios con que afirmaba su confianza, recomendado por una terapeuta de habla en la escuela.
En la biografia que escrbio Sandy Asirvatham en 2001: "Bruce Willis: Overcoming Adverrsity" (Bruce Willis:Victoria sobre la adversidad) Willis admitio que a veces no le gustaba hablar de su ninez en  entrevistas inquisitivas porque le resultaba muy doloroso, y esto se debia en parte a la tartamudez.
En la escuela secundaria Willis se convirtio en el bromista de la clase, algo que luego le llevo a interesarse en el teatro. Su carácter juguetón le ayudo a integrarse al grupo. De hecho, Anthony Rastelli, maestro en la secundaria, recuerda claramente los esfuerzos de Willis y sus primeras intentonas para hablar en publico. Parker, en su libro, cita lo siguiente de Rastelli: "A la edad en que la mayoría de los muchachos comienzan a orientar su vida, Willis seguía teniendo problemas. La tartamudez era uno de ellos, y termino compensandolo  con sus travesuras.
Tenia que crear su propia identidad, e incapaz de hacerlo con habla fluida, logro hacerlo de otra forma - diferenciandose de los demás haciendose el bromista y el pequeño granuja. El mensaje era:: 'Si, soy tartamudo, pero no quiere decir que soy menos que vosotros, al contrario, incluso soy mejor que vosotros'. Me puse nerviosismo cuando salió al escenario para un discurso.. Los muchachos se reían, pero el no se inmuto y termino su discurso, algo típico de su carácter. Y, claro, llego un momento en que cayo en la cuenta de que podia superar su discapacidad ante el publico".
Willis logro crear la imagen a que aspiraba cuando, primero, se convirtió en el bromista de la clase, y cuando luego llego a ser una estrella en la sección de drama de la escuela secundaria. Mås tarde Willis le dijo a un entrevistador: "Gran parte de mi sentido del humor se debe a mi tartamudez y a mis esfuerzos por superarla y asi conseguir mi propia dignidad. Me dije: Si, tartamudeo, pero os hago reír".
Con todo, Willis termino la secundaria sin plan claro de hacerse actor. En vista de la tartamudez, las notas mås bien bajas y una familia sin medios de costear la universidad, Willis se propuso ahorrar dinero. Dos anos mas tarde se matriculo en el Montclair State College en New Jersey, que contaba con in buen  programa de teatro. Y alli Willis impresiono al profesor de drama Jerry Rockwood ,  que le animo a que fuera a un terapeuta de habla;  y sus actuaciones en el teatro junto con la terapia  le abrieron el camino a la fluidez y al futuro éxito.
La carrera espectacular de Willis como actor se definio con " Moonlighting" (Pluriempleo) elevandolo a primer nivel en Hollywood, y a rotundos exitos de taquilla como "The Sixth Sense" (El sesto sentido), "Armageddon" (El apocalipsis), "Bonfire of the Vanities" (La hoguera de las vanidades) y "Die Hard" (Muerte dificil). Willis es el septimo  actor por orden de mayores exitos de taquilla, basandose en los papeles importantes que han interpretado.
Su lucha con la tartamudez es fuente de inspiración. Por desgracia, raras veces se menciona en las entrevistas. Sin embargo, el hecho de identificarse como tartamudo hace que Willis se convierta en personificación de la lucha contra la tartamudez.