Animal-Assisted Therapy Dogs and Stuttering
By Greg Wilson
Meet Margaret Griffo and her dog Waverly — a beautiful two-and-a-half year old Keeshond. The duo make up a registered Pet Partners® team. They are among only a handful who currently provide fluency therapy to patients.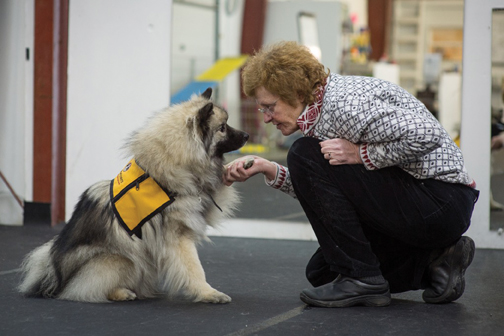 Margaret trained as a speech-language pathologist and attended The Stuttering Foundation's Northwestern Workshop for Specialists more than two decades ago. She lives in Alaska, where she has worked in hospitals, nursing homes and the public schools over the years. Now in retirement, Margaret offers volunteer fluency therapy in her home one day a week. 
"Those who come by for therapy know my dogs, and they love them," said Margaret. "Some years ago, I was working with a young man with Down syndrome. He was very disfluent. I had an old Siberian Husky named Flint who made such a difference during our time together." 
Margaret realized that one of the main reasons dogs worked so well with her patients was their inherent non-judgmental nature. "People are judgmental, dogs aren't. And those who struggle with fluency know the difference." 
When Margaret was working in schools, she often brought dogs to meet with children. "The connection was immediate," she added.
In 2013, Margaret decided she 
needed another dog and found Waverly. The two became a registered Pet Partners® team when Waverly turned one, working in nursing homes, visiting university students along with the campus mental health teams, counseling veterans with PTSD, and working with anyone experiencing crisis. Pet Partners® is the national organization that demonstrates and promotes animal-assisted therapy, activities and education. Its teams interact with a wide variety of clients: veterans with PTSD, seniors living with Alzheimer's, students with literacy challenges, patients in recovery, people with intellectual disabilities and those approaching end of life. 
"Waverly has become such an asset to me in my fluency work. When talking to Waverly, speakers of any age cannot fail," she says. "Waverly makes great eye contact, is very patient and is always comforting. Anyone can give her directions, which she will follow. And most importantly, there is no time pressure. She is happy to wait for the complete command."
Because of her experience with Pet Partners and in animal-assisted therapy, Waverly is becoming a National Crisis Response Canine. "It's quite a unique distinction for her," said Margaret. 
Margaret also believes that Waverly's calm disposition is very appealing to those in pet-assisted therapy. "I always tell people, 'Don't worry about mistakes.'" 
Waverly will also respond to gestures, so some patients can supplement their verbal directions to give better clarity. But for Margaret, the true beauty of such a wonderful companion is quite simple. "To Waverly, words are important but fluency isn't."
• Dr. Nancy Gee and her colleagues at the State University of New York, Fredonia, have been investigating the impact of therapy dogs on typical and language-impaired preschool children
1
.
• The results of a number of studies indicate that the presence of a therapy dog is beneficial to learning, but may be particularly beneficial to language-impaired children.
• For example, they have found that when the dog is present, children follow instructions better and have better memory and categorization performance compared to when a stuffed-dog, or a human are present.
• The language-impaired children appear to receive a bigger boost in performance in the presence of the therapy dog compared to typical children. Research of this nature provides an evidence base, demonstrating the effectiveness of therapy dogs in these settings.
• Dr. Gee is a member of Pet Partners' Human-Animal Bond Advisory Board.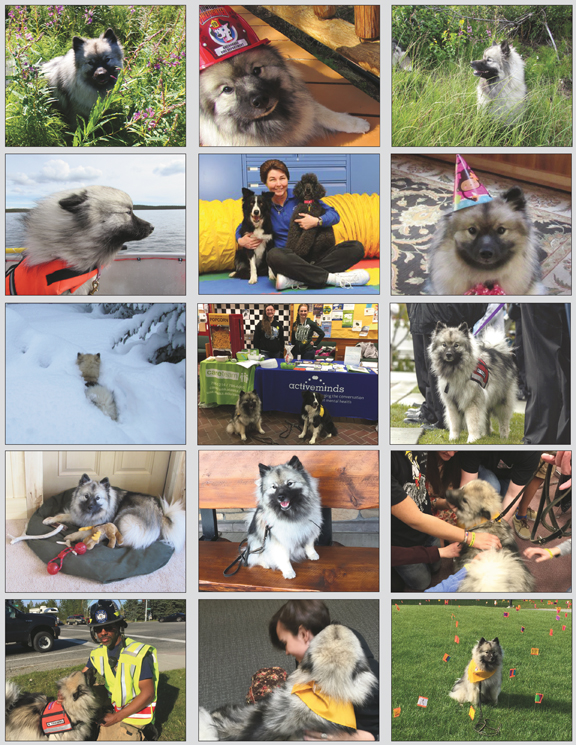 1. For a review of this work see: Gee, Fine & Schuck (2015). Animals in Educational Settings: Research and Application. In A. Fine (Ed.), Animal Assisted Therapy: Theoretical Foundations and Guidelines for Practice 4th Ed. New York, NY: Academic press.
From the Winter 2016 Newsletter