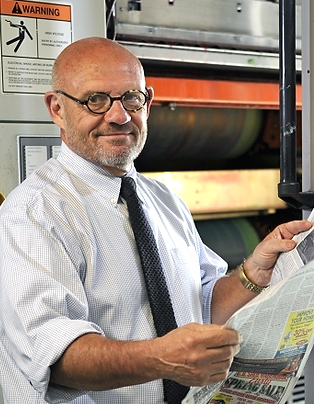 Vince Vawter, author of the 2014 Newbery Honor Book Paperboy, is a native of Memphis. He worked in newspapers for 40 years, rising from sports writer to newspaper publisher. Vawter retired in 2006 to devote full time to the book he always knew he would write, the story of a boy who battled a debilitating stutter while growing up in a racially segregated Memphis in the 1950s.
In addition to the Newbery Honor, Paperboy is a selection of the Junior Library Guild and was named a Top Ten Book of Historical Fiction for Youth by the American Library Association. Delacorte Press, an imprint of Penguin Random House, published the novel in May 2013.
He first worked as a sportswriter for the Pine Bluff (Ark.) Commercial. For the next 13 years he was at the Memphis Press-Scimitar as a copy editor/news editor and then for 10 years was the managing editor of the Knoxville (Tenn.) News Sentinel. In 1996, he was named editor and president of the Evansville (Ind.) Courier & Press, and in 1998 became publisher and president.
Since the publication of his book last year, Vawter has made presentations or video chatted with more than 50 groups interested in his story. He was the keynote speaker at this year's 44th Annual Mid-South Conference on Communicative Disorders in Memphis.