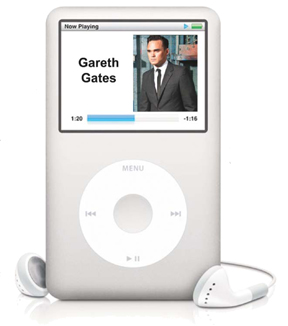 The name Gareth Gates may not be recognized by some Americans, but he is one of the biggest pop stars in recent UK history. A singer-songwriter, Gates has branched off into musical theatre and film. Gareth Gates was born on July 12, 1984 in Bradford, England, one of four children of Paul and Wendy Gates; Paul Gates stuttered until age 21 when it miraculously disappeared. Gareth joined the Bradford Cathedral choir at age nine, and in 1997 was chosen to sing a solo for the visiting Queen Elizabeth II. The young boy knew that this performance would not be his last in the national spotlight. He plays both the piano and classical guitar in addition to writing songs.
Gareth Gates climbed to fame in 2002 when he was runner-up in the first season of the show Pop Idol, rising from a pool of more than 10,000 contestants. Though not the winner, he was immediately signed by Simon Cowell to the BMG label. Gates' first single, a rendition of the classic song Unchained Melody, entered the United Kingdom singles charts at number one. Gates' career has been nothing short of amazing since. His second single Anyone of Us (Stupid Mistake) also topped the charts. He has had an additional number one single and countless other hit singles, as well as three hit albums. He has sold more than 3.5 million records in the UK alone. Apart from his career as a pop singer, Gates has also branched out into musical theatre, playing the lead role in a production of Joseph and the Amazing Technicolor Dreamcoat as well as the role of Marius in an international touring production of Les Miserables. To recap the brilliant career of Gareth Gates would be a major work in itself. 
Actually, 10 years later Simon Cowell revealed that he had wanted Gates to win the top prize in 2002. A January 6, 2012 article in The Sun entitled "Simon Cowell's number one is Gareth Gates" made it clear that Cowell was rooting for Gates and that his affinity for the young singer was influenced by Gates' stuttering. Cowell is quoted as saying of the singer, "When I first saw him I hoped he could sing. He looked great and then he couldn't talk. I really liked Gareth and wanted him to win. I could feel it in my stomach."
Shortly after his burst of fame in 2002, Gates wrote an autobiography, Gareth Gates: Right from the Start, with co-author Sian Solanas. Needless to say, Gates' stuttering receives major attention throughout the book. He made it clear that the speech problem fueled his singing career. "I lived through my music because I couldn't speak well." He also recounted how he was handicapped in school because of his speech; he said of his high school years, "In my German GCSE exam, I actually had to sing my answers out." After his runner-up status on UK-wide television, he instantly became a role model for young people who stutter. In the book, he offered this advice, "I haven't ever let it hold me back from fulfilling my dream. One of the messages I wanted to get out to people on the Pop Idol show was that even though you have a disability, you shouldn't let it stop you from what you want to do."
The young singer has always used his fame and celebrity as a vehicle to raise awareness about stuttering. For instance, two years after his Pop Idol experience, there was a feature article in the UK daily The People on March 21, 2004, titled "Stutterly Perfect" with a caption below "Gareth Gates talks to 500 people for 5 minutes…. without stammering." The article centered on Gates giving a five minute speech from scribbled notes during a charity concert. He later  told the reporter of his struggles with stuttering, "I'm getting there. I've worked hard to battle my impediment. And though it's taken time and effort and has been a bit frustrating, the past month has seen an incredible improvement. I'm really delighted."
Upon the UK release of The King's Speech, Gates wrote an op-ed piece for The Sun, a well-known daily tabloid newspaper, in which he told about his own struggles with stuttering. It was clear that his purpose in writing the piece was to encourage other PWS not to let their disability stand in the way of their dreams. In one anecdotal passage, he wrote, "A stammer can make you feel you can't be the person you want to be. You convey your true personality by speaking. If you can't do that, it's hard to show the real you. And in my case I am a very funny, charismatic guy! ... We all know what it's like sit round a table in a pub with your mates. The wittiest person gets the biggest laugh. I always thought of funny lines but when I came to say them out loud, I crumbled."
In 2011, the singer filmed a documentary for the BBC called Gareth Gates Stammer House in which he mentors six men and women who stammer. Gates achieved fluency with the McGuire Program and was certified by that program as a speech coach, enabling him to give workshops. The press in the UK covered his stuttering and progress in speech therapy with attentive compassion. Gates has regularly appeared on television shows to discuss stuttering, and has made the speech problem a part of any feature article in the press. For instance, during an appearance on Good Morning TV in 2007 on International Stuttering Awareness Day, he said, "Having a stammer really affects peoples' lives more than what anybody really realizes. There are all sorts of emotions you feel…like shame…. there are a lot of hard feelings.' He continued, "That's certainly one of my greatest achievements I think is the fact that I did heighten the awareness of stammering. When I was a child at school, it felt like a very lonely place. I did not know anybody else who had a stammer and that was very hard for me. I wished there had been someone in the public eye where the kids at school could relate to a stammer."
While Gareth Gates does not have the level of fame in North America that he does in the UK, Australia and several other countries, his message about stuttering gradually made its way into the press in many countries and many languages. He constantly speaks about his stuttering in public as a means to encourage people not to let their speech problem hold them back. Gates has achieved his goal of being a role model for people who stutter, but his message goes further than this goal in that he also encourages all people with disabilities or any type of challenge to pursue their dream and not let adverse circumstances hold them back. In fact, in his first interview after being named the runner-up on Pop Idol, he said, "Part of my dream is to help those less fortunate than myself."  It is safe to say that in terms of helping people who stutter, Gareth Gates will be topping the charts for many years to come.
From the 2013 Winter Newsletter