Therapists Return Home to Make a Difference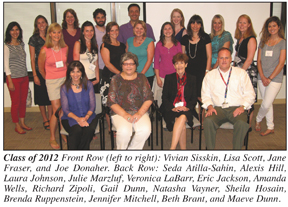 By becoming more effective clinicians, these workshop graduates are making an impact on children's lives. Here is some feedback from the Mid-Atlantic 2012 Class to prove just that.
It was incredibly energizing professionally to be with experts in the field along with my group of peers who, like me, were very interested in fluency.  The energy has continued throughout my year, propelling me to do things I never thought I could do.  I presented information to my school district, and I had such good material that my group of Madison school clinicians asked me back for the next all-group meeting in December.
How have I changed what I do on a daily basis based on the workshop?  For starters, I am much more thorough with evaluations and re-evaluations and realize now that not everything is stuttering and stuttering is not just motor.  I have changed one student's goals from stuttering to expressive language and now I am finally getting results - the workshop helped me see that her easy whole word repetitions were really a language issue.  In short, I have discovered that you just have to look and address the language piece when working with this population and understand what the linguistic contribution is, not just the motor pattern.  
I also use the Williams' talking points throughout the therapy process and not just at the beginning.  I revisit the speech machine and ways to "change things around" almost at every session to some extent.  I also feel more creative in finding ways to practice speech goals. 
The slide about "therapy outcomes"  showing that the relationship to the client is a huge piece of the success in therapy, has allowed me to feel okay about taking time to nourish the relationship with the client and not get too caught up with the particular method. I also was impacted by the comment made by Vivian when she told us to "meet the parent where he or she is and go from there." I cannot explain why that advice stayed with me so much, but I feel more collaborative with parents now and no longer upset if they have unrealistic expectations - I just go from that point to the next.  
This wonderful week has changed my life, helped the kids who stutter in our school district and was so much fun.
The workshop has changed the way I do therapy with those who stutter! I keep my workshop binder at my office and frequently refer to it for inspiration or a quick reminder. I also shared what I learned with SLPs over here at group gatherings and often help problem solve about fluency caseloads. 
In terms of what I use often in therapy, I have made a lot of changes! I find Williams' model incredibly useful and always go over it. I can see that it is very practical for my clients as well. 
Another thing I have to say, when teaching easy onsets I am MUCH more aware of my own movements now and keep still. And, I almost always remind my client to "keep the head still." 
Of course there are some cultural differences in clients here. I see a lot of avoidance behavior and difficulty with the desensitization aspect. I feel empowered to introduce these methods and implement them too! 
I spend a good amount of time on emotions and value rapport building and view this as a part of therapy now. I feel like I have a lot bigger perspective now, and when I work with people who stutter, I can consider many things I was not able to before. 
It has been an invaluable experience for me. 
When I returned home, I was able to share with other Maui Schools SLPs with an inservice, and made a lending library for all of the books and CDs given to us at the workshop. 
Since the workshop, my fluency therapy has been much more focused on client-led everything, and I have been incorporating more exploration of how we can change different parameters of speech. Also, I came away with a much clearer understanding of each of the stuttering modification and fluency shaping techniques and feel that I have been able to share these with my students in a much more effective way.  I've also been more comfortable helping students explore their thoughts and expectations surrounding speech. Of course I still feel like I have a lot to learn, but am much more confident embarking on my own learning journey with the tools we gained last summer. 
My colleagues were very interested in the information.  I have had two in-services and lent out DVDs for those who wanted additional information.  I have also handled questions from community members about stuttering. 
I had five students at one of my schools that were working to improve their stuttering.  It was clear to me how to go about working with these students, by finding out what they knew about their stuttering pattern and what strategies they found worked for them. I gave them more tools to use to help them reduce the struggle as they blocked on words. I also know how to approach them about their feelings about stuttering, and this open dialogue really helped the therapeutic process.  Two of my students became comfortable with their mild stuttering and as a team, we decided that they were ready to exit from speech.  I was pleased that they felt ready to manage their stuttering on their own.
I have started a lending library using SFA materials for colleagues, parents, and some of the regional therapists. In Idaho, SLPs are few and far between. SLPs who have had such terrific training and are passionate in helping people who stutter are fewer still.  So I have found that sharing my knowledge, materials, and experience with other area clinicians to be very rewarding.  I have also shared my workshop materials and information with my colleagues during an in-service last summer.
From the Fall 2013 Newsletter