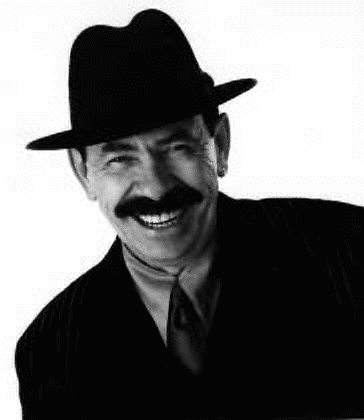 Check out this website dedicated to Scatman John
John Paul Larkin, better known by his stage name Scatman John, was an American jazz pianist, songwriter and performer known for his unique "scat-rap" style of singing. Like many others, he initially struggled on his way to fame, but Scatman John ultimately achieved success because of, and not in spite of, his stutter.
Born in El Monte, CA, Larkin struggled with stuttering from an early age. According to The Los Angeles Times, he found solace in jazz music, when he heard a recording of Ella Fitzgerald singing scat on "How High the Moon."
Larkin began his career playing piano in jazz clubs around Southern California. He would later concede to The LA Times that he "hid behind [the] piano because I was scared to speak." He didn't add singing to his act until 1984; he was performing on a cruise ship, and the applause to his scatting encouraged him to incorporate it into other performances.
In a 1995 interview with Advance for Speech Pathologists and Audiologists Magazine, Larkin explained how his unique style of singing was born. In 1990, he travelled to Europe with his wife, Judy McHugh Larkin, daughter of American composer James Francis "Jimmy" McHugh. There, they met other performers in the jazz community, and found an agent to promote Larkin's work. In the same interview, Larkin said it was his wife Judy who handed a tape of some of his best scatting work to his new agent, Manfred Zahringer. Larkin said his agent tried for a year and a half to put him on a jazz record, but a crowded market made it difficult.
Then one day his agent called and said he had an idea.  "Don't kill me, but why don't we try scat-rap?" Zahringer asked.  "Sure, I'll try anything," Larkin told him. Zahringer took the idea to BMG/RCA Records in Hamburg, Germany; they sent Larkin to a recording company and "out pops "Scatman John."  The first single was I am the Scatman.  The kids went crazy--they ate it up.  It was No. 1 everywhere in Europe and Japan."
Larkin decided he wanted to talk about his stuttering publicly when he released his single "Scatman (Ski Ba Bop Ba Dop Bop)." In the interview with Advance for Speech Pathologists and Audiologists Magazine, Scatman John said of his stuttering:
"I turned to my wife and said that I had to put this out there, [because] if by some fluke it did become a hit and I had to do radio and TV, I wanted it to be known that I am a stutterer… When I go out there, maybe they will remember that they are expecting me to stutter. This is a change from that horrible idea of 'Don't Stutter!'"
Scatman John went on to sell eight million CDs, and earn 14 gold and 18 platinum records. "The fact that I've been a stutterer since I've been speaking has compelled me to find another way to speak another language," Larkin told The LA Times in 1990.
According to The Times, Scatman John's success and how he inspired other stutterers earned him the Annie Glenn Award from the National Council of Communicative Disorders in 1996. Accepting his award, Larkin said, "my greatest problem in my childhood is now my greatest asset."
In their obituary, The Independent quoted Larkin explaining how stuttering and scatting ultimately helped his career: "Scatting gave me a way to stutter freely," he said. "I'm a star . . . not although I stutter, but because I stutter."
Scatman John acknowledged that while he didn't always feel "okay" about his stutter, he had come to accept it, inspiring others in the stuttering community to do the same. He told Advance for Speech Pathologists and Audiologists Magazine:
"Stuttering is an interesting thing," he said. "I know how absurd it can sound for a stutterer to be told that it's 'okay' to stutter. For me, now it is okay to stutter. I don't like to stutter, but it has become okay. It kept me in the closet when I was a jazz player. Stuttering had control of me. I was a victim of my stuttering. Today I'm not the victim anymore. It doesn't sabotage my life anymore." 
Click here to read another article about Scatman John.
Posted Sept. 15, 2015