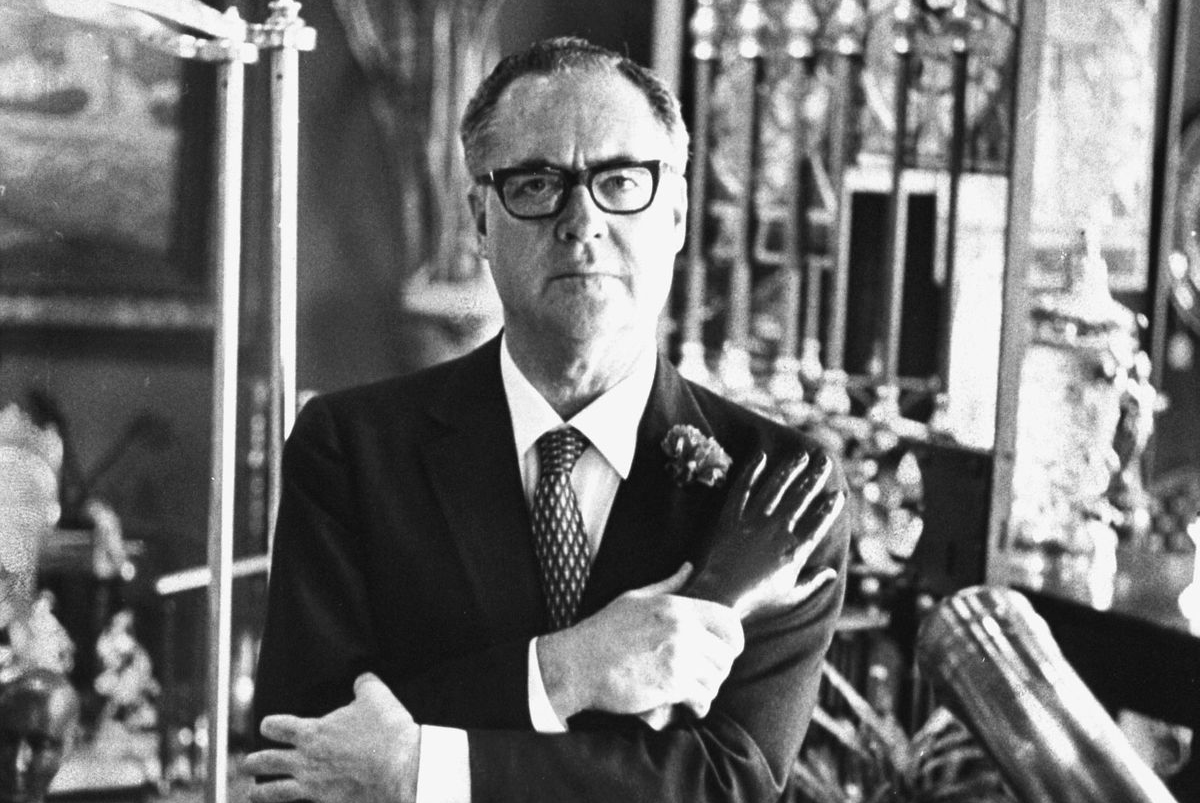 Acclaimed novelist Richard Condon (1915-1996) joins the list of little-known celebrities who stutter.
A New York City native, Condon began his writing career at the age of 42, turning out 26 books in his lifetime. His most famous novel was The Manchurian Candidate (1959), which was turned into a highly-acclaimed movie twice: the first starring Frank Sinatra and Janet Leigh in 1962, followed by remake starring Denzel Washington in 2004. Prizzi's Honor (1982) was also made into a film movie starring Jack Nicholson, Kathleen Turner and Anjelica Houston in 1984.  The film received a slew of Oscar nominations, including a nod to Condon for Best Adapted Screenplay. Three more novels followed about the famed Prizzi clan, a family of Brooklyn gangsters.
When Condon died in 1996, his stuttering was not mentioned in his New York Times obituary, the headline of which described him as a "political novelist": "Novelist is too limited a word to encompass the world of Mr. Condon. He was a visionary, a darkly comic conjurer, a student of American mythology and a master of conspiracy theories, as vividly demonstrated in The Manchurian Candidate."
In a profile of Condon by Chris Tucker in the October 1983 issue of D Magazine:
"Condon has had a stuttering problem all his life, but nothing stops him when he is on a roll like this. Lambasting Hollywood idols, sybaritic producers and the ignorant masses of ticket buyers, his voice mounts through a sputter of outrage to a squeaking crescendo.  Surprisingly, Condon believes that his stuttering helped him to become a writer. All stutterers become painfully aware of their problem words, those likely to require several quavering attempts to produce. As a child, Condon made it a habit to learn numerous synonyms for his problem words, thus enriching his vocabulary. Today, his books are studded with esoteric mouthfuls like hemiated, zibeline, and hypcorism."
The profile of Condon on AuthorsCalendar.com made the commentary, "Unconsciously, stuttering lead to writing just as surely as the deep need to express oneself with graces must be resolved by anyone denied the pleasure."
Condon didn't try to learn any foreign languages in his 20 years living abroad in Mexico, Paris, Geneva, Locarno, and Ireland. He thought that his stuttering would not allow him to adequately speak in a new language. He stated, "Why go out if you can't speak to the people? I was kept in a cocoon." Of course, it is well known that some people who stutter can be very fluent in foreign languages.
An article in the New York Daily News titled "The Voice of Reason for 15 Years, Leonard Lopate Has Been a Bridge Over Troubled Airwaves" in 2000 examined the high-profile career of radio personality Leonard Lopate who interviewed countless celebrities. The article sharply described Loprate's interview with Condon. "Lopate says one of the most disastrous interviews he ever did was with Richard Condon, author of The Manchurian Candidate, whose stuttering was so bad it left more dead air than Rosemary Wood did on the Nixon tapes."
Richard Condon did not let his stuttering hold him back. It is certain that his stuttering fueled his writing career that resulted in so many bestselling novels, some of which were made into highly successful movies.
From the Winter 2021 Magazine