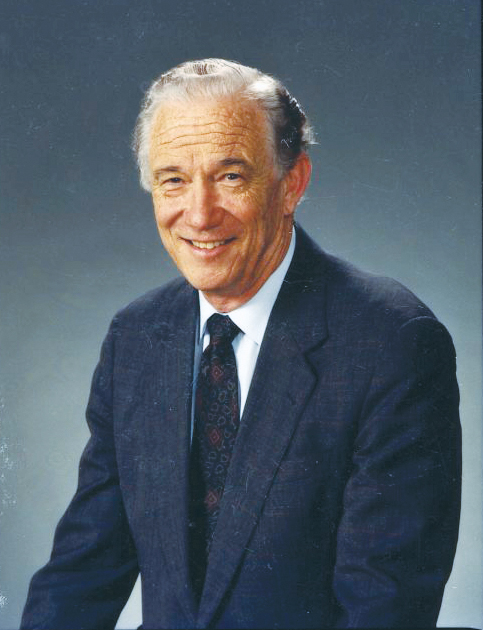 MEMPHIS (Oct. 7, 2017) — It is with much sadness and a heavy heart that the Stuttering Foundation announces the passing of Joe Fulcher, an integral part of the Stuttering Foundation since 1984. Husband of Stuttering Foundation President, Jane Fraser, and son-in-law of its Founder, Malcolm Fraser, Joe passed away on October 6, 2017, after a brief illness.
During his more than 30 years of faithful service to the Stuttering Foundation, Joe served in many diverse capacities, including Vice President, Assistant Secretary, Treasurer, and member of the annual Audit Committee.  Joe's dedication to his work with the Stuttering Foundation was an example to board and staff.
Joe had the privilege of working directly with Malcolm Fraser, the founder of the Stuttering Foundation, for many years. Malcolm thought highly of Joe's financial oversight and planning abilities that greatly assisted the Stuttering Foundation in providing ongoing support and help to those who struggle with stuttering.
The arc of Joe's career also closely followed Lovelace Respiratory Research Institute's growth over the years. Joe first interacted with Lovelace in 1951 when he moved from his home in Texas to Albuquerque and became part of a consulting team for the clinic. Inspired by Lovelace's work, Joe joined the organization to serve as its director of finance.  "What they were doing – combining medical services, medical research, and medical education – was really interesting so I was happy to stay on," he stated in an article for the Stuttering Foundation newsletter. He advanced through the ranks at Lovelace until 1969 when he enrolled at University of New Mexico's law school.
"I heard a well-known speaker say that a man should be repotted every ten years. I liked that and thought it was time to do something different," explained Joe. While attending law school, he continued to serve as Administrative Vice President and Trustee of the Lovelace Foundation.
After earning his juris doctorate in 1973, Joe joined Modrall, Sperling, Roehl, Harris and Sisk, a law firm in Albuquerque. Subsequently, he became general counsel for the Lovelace Foundation and later of the Lovelace Medical Center, Inc., the organization set up to combine the medical services operations of the clinic and the hospital. Upon retirement from the law firm in the late 1980's, Joe continued to serve as general counsel for Lovelace a few years on a part-time basis.  Joe often said that it was very gratifying to see Lovelace change shape over time as the broad reach of its community service and depth of its research expanded.
Throughout his career Joe was involved with the evolution of Lovelace from three separate entities – a hospital, clinic and research institute – to combine all three, and finally, with the medical service operations separated, to the organization that it is today. 
Stuttering Foundation board member Joe Walker, who worked closely with Joe over the years, reflected on how much the Stuttering Foundation relied on him for leadership.  "Joe Fulcher was constantly working to improve the effectiveness and efficiency of the operations of the Stuttering Foundation.  I always looked forward to those calls from Joe with a new positive idea he wanted to discuss.  The truth is that Joe had already researched and studied what was being proposed so thoroughly that I knew his proposal would be a rock solid move benefiting the Stuttering Foundation.  Joe just wanted his ideas to be triple-checked."
Joe's acumen, work ethic and wit will be missed by the entire Stuttering Foundation family. The Stuttering Foundation benefitted greatly by Joe Fulcher's work for over 30 years, and it will no doubt benefit from Joe's legacy for years to come.
In addition to his wife Jane, he leaves four children Joan Bradley, Lee Fulcher, Charles Fulcher, Leslie Fulcher Cylke; and nine grandchildren and seven great grandchildren; two step children, Jean Gruss and Celia Gruss. Service will be held at the Edo Miller Funeral Home in Brunswick, Georgia at 6 p.m. Tuesday, October 10, 2017. In lieu of flowers, the family requests that memorial donations be made in Joe's name to The Stuttering Foundation, P.O. Box 11749, Memphis, TN 38111-0749