Malcolm Fraser Honored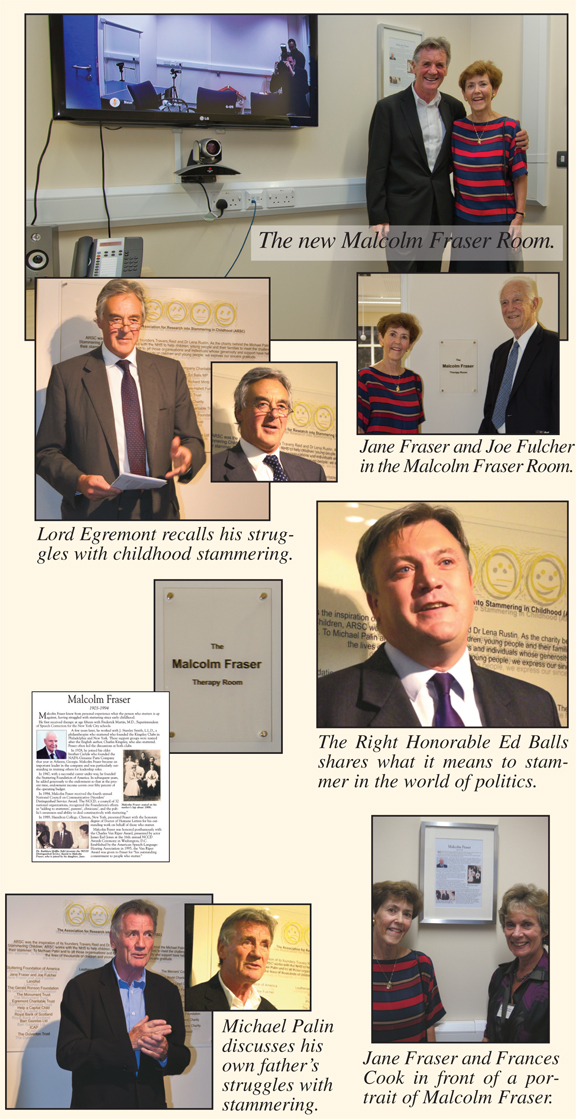 Stuttering Foundation President Jane Fraser and Vice-President Joe Fulcher joined therapists, supporters, and trustees of the Association for Research into Stammering in Childhood, ARSC, and staff of the Michael Palin Centre on Sept. 20  to celebrate the opening of the newly-refurbished facility, which includes a high-tech room named for Malcolm Fraser.
The new centre opened in August and this special event marked the move.
The purchase of the new building was funded by charitable donations and the refurbishment was made possible by a grant from the previous government with support from the Right Honorable Ed Balls MP.
During the celebration, Michael Palin gave a personal speech about his father's stammer. He described the difference it would have made if specialist therapy had been available all those years ago.
Speaking on behalf of the trustees, Lord Egremont described with great passion his memories of being a youngster with a stammer and his commitment to the work of the specialist therapists at the centre.                   
Ed Balls discussed the challenge of being a senior politician with a stammer and the impact on him of seeing the young people working with therapists at the centre to overcome stammering.
Among the guests were Travers Reid, life president and co-founder of the ARSC, and Emily Thornberry, Member of Parliament for Islington South and Finsbury.
The Malcolm Fraser Room is equipped with teleconferencing equipment that enables therapists to reach children worldwide.
"My father would have been amazed and delighted by the marvelous work being done at the new Centre!" said Fraser.
-From the Winter 2012 Newsletter