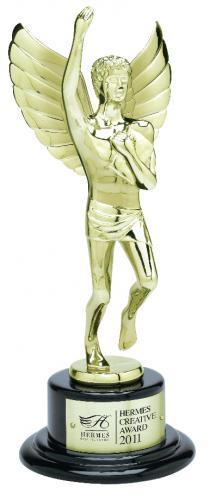 MEMPHIS, Tenn. (May 19, 2011) — The Stuttering Foundation, www.StutteringHelp.org, is the recipient of the prestigious Gold Hermes' Creative Award for the organization's 2011 Winter Newsletter, which featured the movie The King's Speech on the cover. Click here to view a copy of the newsletter.
"This is a tremendous honor," said Jane Fraser, president of the 64-year-old nonprofit organization. "Our newsletter is crucial to our outreach to all those who have concerns about stuttering. Design specialist Scot Squires and his team put a lot of work into the newsletter and are certainly proud of each issue."
The Foundation received the award for the design and content of the quarterly newsletter, which reaches millions worldwide through print and electronic media at the Foundation's Web site, www.StutteringHelp.org.