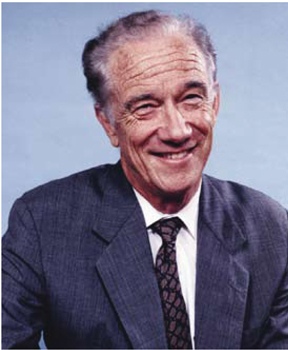 Joe Fulcher plays a valuable role in the smooth operations and financial excellence of the Stuttering Foundation. Since 1984 he has served in the roles of Vice President, and Assistant Secretary and Treasurer. He also serves on the annual Audit Committee.
His dedication to his work with SFA is an example to the entire board and staff.
Joe had the privilege of working directly with Malcolm Fraser, the founder of SFA, for many years. Malcolm thought highly of Joe's financial oversight and planning abilities that help SFA provide ongoing help to those who struggle with stuttering.
"The Foundation is fortunate to have someone of Joe's capabilities be a part of this important work." said Jane Fraser. "We have him to thank for our success. "
This is the first in a series of articles featuring Stuttering Foundation board members. This article about Joe Fulcher first appeared in Lovelace Respiratory Research Institute's Breath Magazine.
The arc of Joe Fulcher's career has closely followed Lovelace Respiratory Research Institute's  growth over the years. Fulcher first interacted with the Lovelace Clinic in 1951 when he moved from his home in Texas to Albuquerque as a part of a consulting team charged with reorganizing the clinic's accounting department. Inspired by the clinic's work, Fulcher joined the organization to serve as director of finance.
"What they were doing—combining medical services, medical research, and medical education—was really interesting so I was happy to stay on," explains Fulcher. His involvement with the organization has continued ever since.
Fulcher advanced through the ranks at the organization until 1969 when he decided to enroll in University of New Mexico's law school.
"I heard a well-known speaker say that a man should be repotted every ten years. I liked that and thought it was time to do something different," explains Fulcher. While attending law school, he continued to serve as Administrative Vice President and Trustee of the Lovelace Foundation. After earning his juris doctorate in 1973, Fulcher joined Modrall, Sperling, Roehl, Harris and Sisk, a law firm in Albuquerque.
Subsequently, he became general counsel for the Lovelace Foundation and later of Lovelace Medical Center, Inc., the organization set up to combine the medical service operations of the clinic and hospital. Fulcher retired from the law firm in the late 1980's, but continued to serve as general counsel for a few years on a part-time basis. Today, Fulcher is still a member of the LRRI Board of Directors.
While Fulcher has been involved professionally with the organization for 59 years, he's also been personally satisfied with the medical research. Years ago, when he had heart bypass surgery at Lovelace, he remembered the times when Lovelace scientists and surgeons were conducting early research on an artificial heart pump. "It was gratifying to reflect that I had a small hand in supporting the kind of research that ended up helping so many people—including myself," he comments.
Throughout his career Fulcher was involved with the evolution of the organization from three separate entities–a hospital, clinic and research institute—to a combination of all three, and finally, with the medical service operations separated, to the organization that it is today. He says it's been very gratifying to see LRRI change shape over time as its breadth and depth of research expanded.
"Under Bob Rubin's leadership this has become the leading respiratory research institute in the world... it's unique. Having watched it all these years, I'm thrilled with LRRI's outstanding success. I see it as a tribute to the many scientists, physicians, and devoted Board members who are a part of its colorful progeny."
-From the Summer 2011 Newsletter