For Immediate Release
Contact: Greg Wilson
571-239-7474 
Photo caption: Matthew Sander at the Ballyneal Golf Club in Holyoke, Colo., during the Hundred Hole Hike. Download picture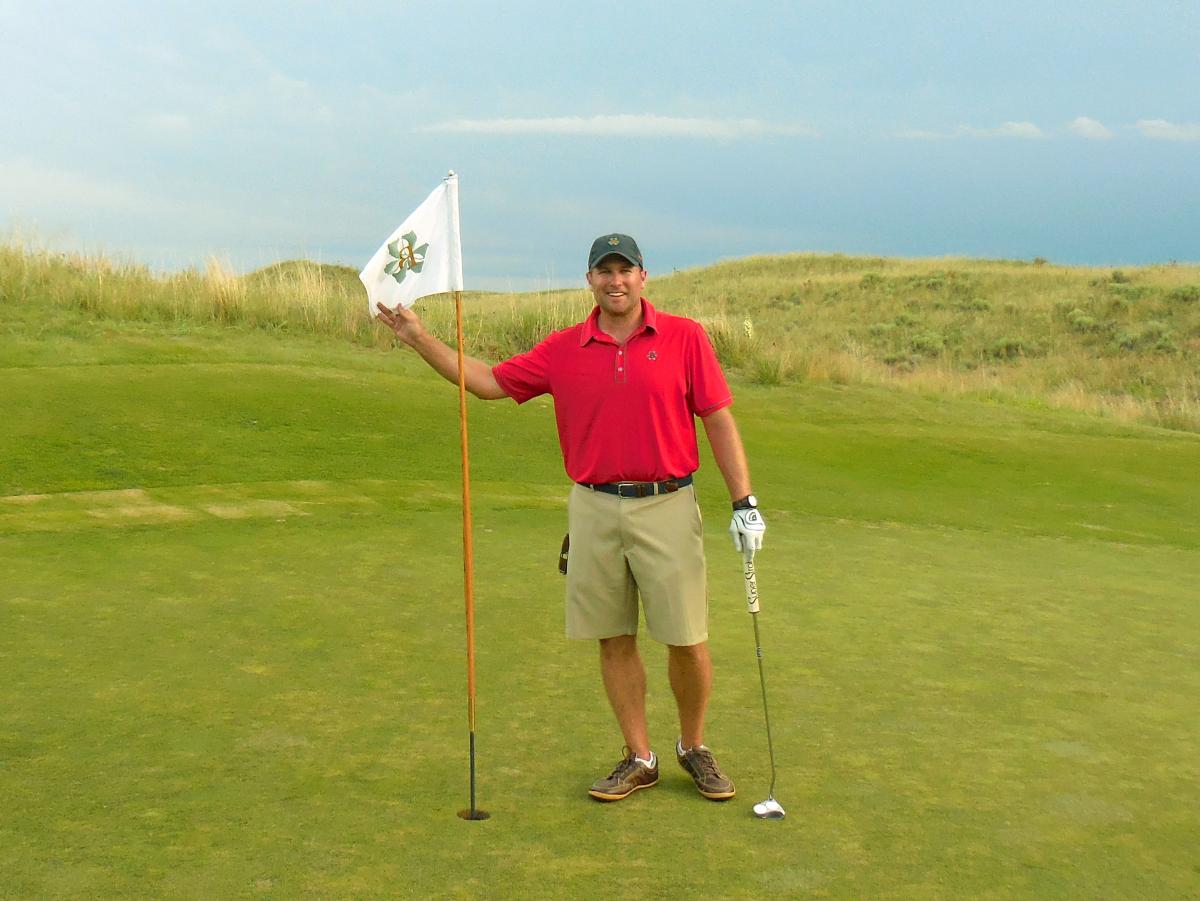 Holyoke, Colo. (June 30, 2014) — For the third year, Matthew Sander supported the Stuttering Foundation by raising more than $2,600 in pledges during this year's Hundred Hole Hike, a national golf marathon at Ballyneal Golf Club in Holyoke, Colorado. Matt golfed and hiked for more than 14 hours in support of the stuttering community, setting a new personal record of 126 holes. 
"Being able to support the Stuttering Foundation through my participation in the Hundred Hole Hike is one of the highlights of my year. It's a grueling and emotional day, but I'm so inspired by all the hikers who go above and beyond to raise money and awareness for their worthwhile causes," said Sander.
Sander's support of the Stuttering Foundation stems from his own experience as a lifelong stutterer, as well as his experience with his son Liam, who also stutters. "I know how scary it can be to deal with stuttering," said Sander. "Many people stutter and their families don't know where to turn for information and support. That is where the Stuttering Foundation is so helpful. Their guidance and materials can get families on the path toward improved speech and a better quality of life. I am honored to contribute in a small way to this mission."

Sander plans to continue participating annually in the Hundred Hole Hike, and is already counting down the days to his 2015 hike.  "We are happy to receive any and all support that folks are willing to give," said Sander. "Pledges in any amount can be made at
www.hundredholehike.com
and it is always wonderful to receive support for the Stuttering Foundation via word of mouth, social media or email."
The Hundred Hole Hike is a worldwide network of golf marathons where participants plan to walk and play 100 or more holes of golf in one day in order to raise money for various charitable causes. This year 93 hikers participated in the golf marathon, a record high for participation. So far the 2014 Hundred Hole Hike has raised more than $250,000 in donations and pledges are still being accepted.
"The Stuttering Foundation is able to support and provide resources to people who stutter and their families because of people like Matt. We are so grateful to him for his generosity and commitment to our cause," said
Jane Fraser
, president of the Stuttering Foundation.. "The money raised through his participation in the Hundred Hole Hike will help the Stuttering Foundation continue to support the stuttering community."
###
About the Foundation
Malcolm Fraser
, a successful businessman who stuttered, went on to establish and endow the nonprofit Stuttering Foundation in 1947. The Stuttering Foundation provides a toll-free helpline, 800-992-9392, and free online resources on its Website,
www.StutteringHelp.org
, including services, referrals and support to people who stutter and their families, as well as support for research into the causes of stuttering.