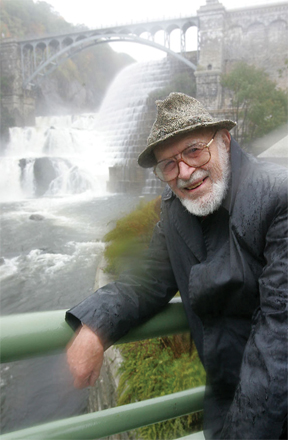 Edward Rondthaler was one of the 20th century's foremost men of letters – actual physical audible letters. An outspoken advocate of spelling reform,  he spent decades trying to impose order on his 26 lawless charges. As a noted typographer who first plied his trade 99 years ago, he helped bring the art of typesetting from the age of hot metal into the modern era – and he was a person who stuttered.
Mr. Rondthaler  established a national reputation by helping usher in the age of photographic typesetting. Phototypesetting was for decades a vital bridge between the hot-metal days of old and the digital typography of today.
A man of strong constitution and ardent enthusiasms, Mr. Rondthaler died on Aug. 19, 2009. He was 104 and attributed his longevity to having taken cold showers daily since 1918.
Mr. Rondthaler first became known more than 70 years ago for his seminal work in photographic typesetting.
In the mid-1930s, he and a colleague, Harold Horman, perfected a phototypesetting device that helped streamline the traditional art of setting type. Known as the Rutherford photo-lettering machine, it was one of the first such devices in wide commercial use.
Armed with their new machine, the two men founded Photo-Lettering Inc., a highly respected New York typographic house whose clients included many of the country's best-known magazines and advertising agencies.
Edward Rondthaler III was born on June 9, 1905, in Bethlehem, Pa. His father was a bishop of the Moravian Church, as was his paternal grandfather. Edward III was reared in Winston-Salem, N.C., where his father was president of Salem College.
At 5, Edward received a toy printing press as a gift and began publishing his own newspaper - a very small newspaper, about the size of a postcard. Only a few years later, he and a friend opened a print shop in a nearby basement, doing jobs for paying customers; they ran the business through high school and for a year afterward, to earn college money.
After studying at Westminster Choir College — besides singing, he played the flute, oboe and bassoon — Mr. Rondthaler earned a bachelor's degree in psychology from the University of North Carolina, Chapel Hill, in 1929. He wrote his senior thesis on the effects of different typefaces on the reader's perception of a text.
Throughout these years, he struggled with stuttering and hoped that his music studies would help alleviate the difficulty.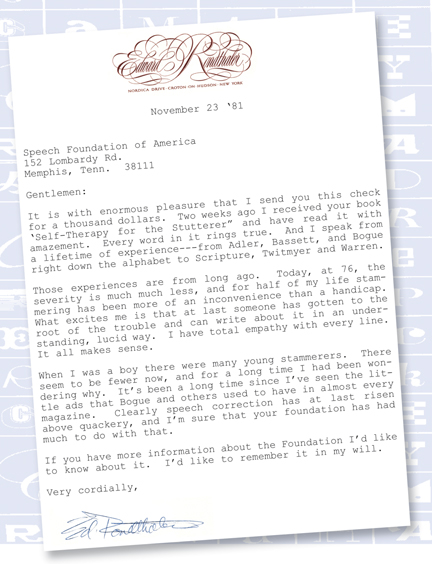 Mr. Rondthaler then moved to New York, where he was an art director for a commercial typesetter. In 1936, he and Mr. Horman founded Photo-Lettering, which specialized in headline and display type. The company was built around their new phototypesetting machine, which helped modernize a technology that had changed little in hundreds of years.
For centuries, type was cast in molten lead and set painstakingly by hand. In the mid-20th century, the advent of phototypesetting freed the alphabet from its leaden shackles, making it possible to manipulate letters as pure photographic images.
Mr. Rondthaler also helped found the International Typeface Corporation, which designed and licensed many commercial fonts, and the Type Directors Club.
Mr. Rondthaler's long campaign to reform English spelling did not bear much fruit, yet he had a great deal else to occupy his time. He wrote several books, among them Alphabet Thesaurus: A Treasury of Letter Design" (Reinhold, 1960) and a memoir, Life With Letters — As They Turned Photogenic (Hastings House, 1981).
He was a prolific writer of letters to the editor on a variety of subjects. He invented many things, including a slide rule that calculated currency-exchange rates and another slide rule that computed cooking times of foods based on weight.
Even after he turned 100, Mr. Rondthaler embarked on a new career in television commercials, appearing in campaigns for Pearle Vision and Genworth Financial.
In 1989, Rondthaler lobbied tirelessly to ensure that SFA founder Malcolm Fraser received an honorary degree from Hamilton College in Clinton, New York. The two men finally met face to face the morning of June 15, 1989, after many years of corresponding.
Earlier Rondthaler had this to say about Fraser's book, "I have read your book, Self Therapy for the Stutterer, with amazement. Every word of it rings true. And I speak from a lifetime of experience."
"What excites me is that at last someone has gotten to the root of the trouble and can write about it in an understanding, lucid way. I have total empathy with every line. It all makes sense."
When asked why he supported the Stuttering Foundation, he replied, "Because it completely changed my life – for the good."
This article is based on an obituary written by Margalit Fox of the New York Times.