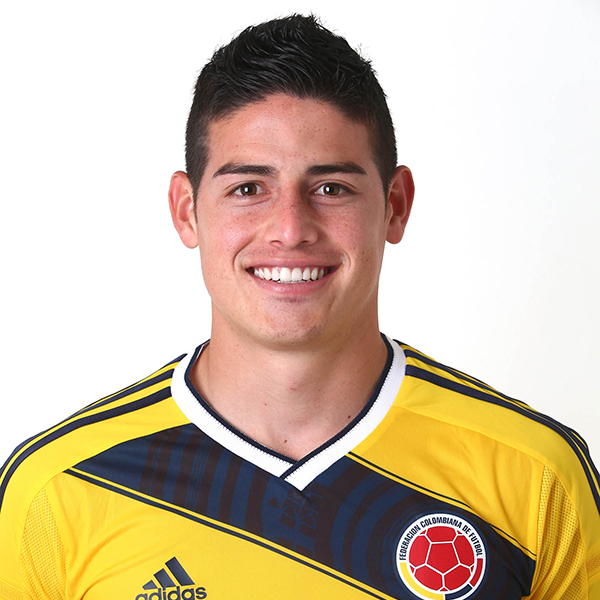 The 2014 FIFA World Cup in Brazil has received no shortage of worldwide media attention, as can only be expected of the popular tourney in which the host country holds the record of the most World Cup victories at five in addition to being the only country to have appeared in every tournament since the World Cup started in 1930. The breakout star of World Cup 2014 hands down has been Colombia's sensation James Rodriguez, known affectionately as "James" (pronounced "HAHM-ez"). Only 22 years old and in his first World Cup, some pro soccer commentators are mentioning Rodriguez' performance in the same regard with Pele's heroics in 1958 when — as an unknown 17 year old — the future superstar lead Brazil to its first World Cup. The June 30th issue of USA Today published a major article titled "7 Reasons James Rodriguez is the breakout star of the World Cup," which said "he's been absolutely brilliant" and highlighted his Cup leading five goals and two assists in only four games. However, what has not yet been widely covered in the international media is that James Rodriguez is a person who stutters.
There has been mention of his struggles with stuttering in the Latin American media, both recently and in his early career when he played in the Argentine league in his teenage years. The prestigious Chilean daily La Tercera ran the July 29th article "James Rodriguez, the Colombian hero that overcame stuttering" (translation), which stated, "The soccer player, who was born in Cucuta 22 years ago, had to fight for several years against his stuttering that affected his youth. In fact, early in his pro career he refused to give interviews because of his stutter."
Expreso, the Ecuadorian daily, ran the June 30th article "James conquered stuttering" (translation) conveyed to readers what Rodriguez has had to struggle with during his life: "He has the talent to easily control the ball, but few people know the speech problem that this star for AS Monaco had in his childhood. Rodriguez was victorious in overcoming his stutter – which on various occasions has created difficulty when giving interviews, even as a professional soccer star."
Commentators have called Rodriguez' five goals and two assists in four games as being nothing short of amazing, especially for a 22 year-old in his first ever World Cup. Colombia has scored eleven goals in the first four games, and Rodriguez has been involved in seven of them. The aforementioned USA Today article put forth, "Rodriguez scores goals and provides assists, but he also dictates the play for Colombia, sets the attacking tone and gets his teammates to play the game he wants to play. He is their workhorse as well as their artist".
Rodriguez, received major coverage in the worldwide attention after his second goal against Uruguay, which was set up by his teammate Cuadrado. Instead of reacting in joy, he ran over to Cuadrado and repeatedly pointed his finger at him and shouted "That was your goal. You made it happen" to let the whole world know that Cuadrado was really the one responsible for the goal on account of his brilliant assist. His first goal against Uruguay was deemed by many observers to be "one of the greatest goals the World Cup has ever seen".
In the first game Colombia defeated Greece 3-0, as Rodriguez set up the first two goals and scored the third goal. In Colombia's second game, he scored a goal on a header and set up another in a 2 -1 win over Ivory Coast. Rodriguez had one goal and two assists in a 4-1 win over Japan. FIFA cited him as being the best performing player in that round.
The fourth game against Uruguay saw the Colombian superstar score both goals, with one being incredibly spectacular, and then the other attracting attention when he made a point in front of the whole world to credit teammate Cuadrado with being responsible for the goal.
James Rodriguez started his professional career in Argentina, playing three seasons with Banfield (2008-2010) before shifting in 2010 to play in Europe. He starred for Porto in Portugal's Primeira Liga for three seasons, and in 2012 was named the league's best player, becoming the youngest player in history to receive the Portuguese Golden Ball award.
In 2013 Porto sold Rodriguez, a seasoned veteran at age 21, to AC Monaco for an incredible $45 million euros, which was the second most expensive transfer in Portuguese history. It is reported that Manchester United made a bid for Rodriguez for $30 million euros but it was rejected as being too low.
While there has been widespread international media glorification of James Rodriguez after Colombia's first four games, what is being called "the Rodriguez effect" can be seen on YouTube as his spectacular plays in the 2014 World Cup are all over that social media channel, not to mention the special "dance" that the Colombians players do in unison after a teammate scores a goal. On July 29, the Huffington Post published an article with accompanying videos titled, "Colombia Still Dancing at World Cup Because James Rodriguez Won't Stop Scoring." The World Cup is far from over and people who stutter around the world, regardless of their favorite team in the tourney, will be watching and cheering on James Rodriguez.
According to FIFA.com, Rodriguez has 1,833 mentions per hour on social media, 45 tweets per minute, and 3,515,208 total mentions as of Thursday, July 3.
Since Rodriguez was mentioned on the Stuttering Foundation's Facebook page, 384,000 people read the posts in just the first couple of days. It was shared nearly 550 times, liked by more than 1,790 people, and nearly 100 people commented. This sets a new record for the Stuttering Foundation's Facebook page.
Posted July 2, 2014