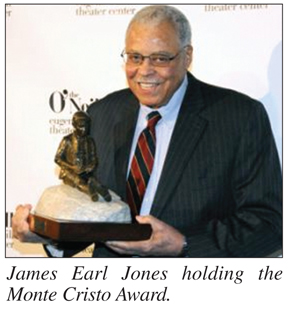 Jane Fraser, president of the Stuttering Foundation, represented the stuttering community May 9 at the prestigious Monte Cristo Awards dinner honoring legendary actor James Earl Jones.
"James Earl Jones has been an inspiration to the stuttering community for decades," Fraser said. "He has courageously shared his own personal experiences with stuttering for the benefit of all. When we think of eloquence and fluency of speech, we think of Mr. Jones as the ultimate role model."
The Eugene O'Neill Theater Center presented its annual Monte Cristo Award to legendary Broadway and screen actor James Earl Jones, in recognition of his monumental achievements and contributions to the American and international theater community.
-From the Fall 2011 Newsletter