Hello Everyone, 
My name is Matthew Sander and I'd like to take a moment to introduce myself and tell you about an opportunity to support The Stuttering Foundation, the 
Hundred Hole Hike
.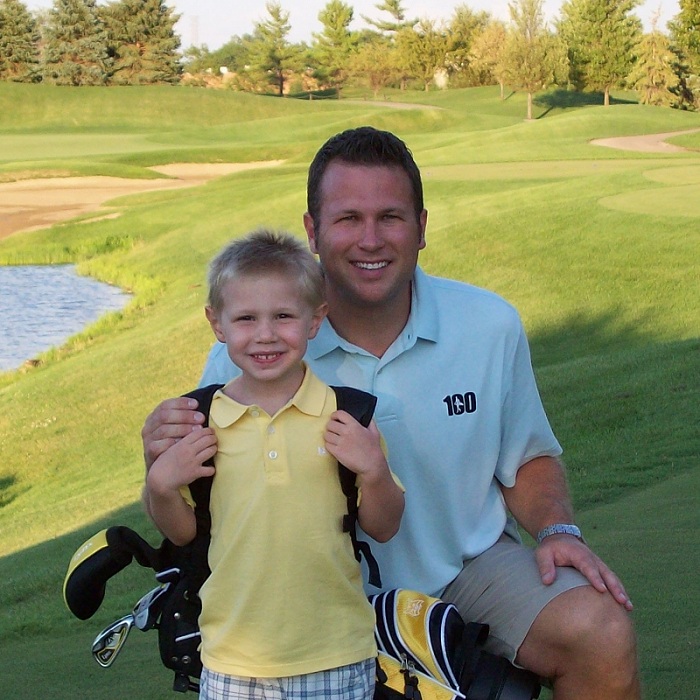 I am 35 years old and have a wonderful wife and three beautiful children. I am a life long stutterer, although as an adult I've been able to cope with my symptoms and now many acquaintances aren't even aware of my stuttering. I wasn't always so comfortable with my condition and as a child and young adult there were many difficult times in school and social settings. I'm all too familiar with the feelings of embarrassment and frustration that stutterers experience. I'm thankful that I've been able to address my stuttering in a positive and successful way. The reality is that there are millions more who need the same help I received so that they can live a full and enriching life.
My 5-year-old son Liam is also a stutterer. When he was quite young, he exhibited mild stuttering patterns and we monitored him to see if they would alleviate or intensify. As he grew older, he experienced peaks and valleys, but the stuttering did remain. My wife and I were doing online research and found The Stuttering Foundation. We were thrilled with the amount of information available to us regarding home based behaviors to address stuttering as well as recommendations for childhood speech therapy. We decided to enroll Liam in therapy and he has shown marked progress over the last two school years. It is our hope that many more children can benefit from this same experience and supporting The Stuttering Foundation is certainly one of the best ways to ensure that stutterers and their families get this valuable information.
That brings me to my participation in the Hundred Hole Hike. The Hundred Hole Hike (HHH) is a worldwide-network of golf marathons where participants plan to walk and play 100 or more holes of golf in one day in order to raise money for various worthwhile charitable causes. This series of events is the brainchild of Jim Colton, of Wheaton, IL, who completed the first Hundred Hole Hike in June of 2011. Through his inaugural hike he raised over $110,000 for a young caddy from his golf club who was paralyzed during a skiing accident. Jim capitalized on the success of his efforts and decided to launch the One Divot foundation and expand the Hundred Hole Hike. Last year, over 60 hikers raised approximately $273,000 in donations for many worthwhile causes including The Stuttering Foundation, Els For Autism, Evans Scholars, The American Cancer Society, and many more. 
I was able to raise a little over $2,000 in pledges for last year's event. I walked 113 holes of golf which totaled over 35 miles! My wife was by my side as my caddie for most of the day and we certainly were spent when finished. It was a truly rewarding experience though for both of us and we are excited for my 2013 hike which is taking place June 17th at Flossmoor Country Club just outside of Chicago. I'm hoping to better that total and raise $3,000 or more in pledged donations for The Stuttering Foundation this year. Thus far we have recieved $1820 in pledges and with your help we can far exceed our goal. Please consider a pledge in any amount to support The Stuttering Foundation. There are three ways you can pledge and donate:
1. If you'd like to pledge via the Hundred Hole Hike website, you can do so by clicking here. Just remember that this is only a pledge and your donation will be fulfilled AFTER the event. You will be sent an email with detailed instructions for fulfillment. All donations are tax deductible and you will receive a confirmation receipt from The Stuttering Foundation.
2. If you'd rather donate right now, you can do so by using The Stuttering Foundation's 
online credit card donation form
. Please remember to include "Matt Sander's Hundred Hole Hike" in the comment section.
3. You can also donate now by sending a check directly to The Stuttering Foundation at the address below. Please remember to include "Matt Sander's Hundred Hole Hike" in your check's memo section.
Address:
The Stuttering Foundation
P.O. Box 11749
Memphis, TN 38111-0749
I would like to thank you in advance for any support you are willing to give. Through my own experiences as a stutterer, and those of my son, I understand the difficulties that this condition brings. However, I also know the feelings of relief and joy that abound when progress is made. With the help of The Stuttering Foundation and supporters like you, countless other families will receive the information they need to help their loved ones and make decisions regarding effective treatment. I'll keep all of you in my thoughts during my Hundred Hole Hike on June 17th. 
Sincerely, 
Matthew Sander