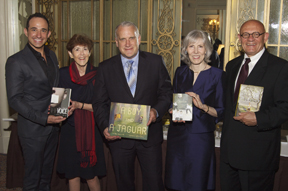 NEW YORK (May 13, 2014) — To celebrate National Stuttering Awareness Week, May 12-18, the Stuttering Foundation honored four authors whose recent books are widely acclaimed by both critics and readers alike. 
In a reception at The Lotos Club, a gathering place for writers, journalists and critics since 1870, Foundation President Jane Fraser noted, "Authors with the courage to share their stories and inspire others hold a special place in the hearts of the 70 million people worldwide who struggle to speak.
"An intimate look into the world of stuttering makes these four books so very special. These authors have truly captured the very essence of stuttering.
"Because books have played such an important role in our organization for seven decades, we are pleased to recognize these shining stars," added Fraser.
Those honored at the event include:
• Dr. Alan Rabinowitz, A Boy and A Jaguar
• Scott Damian, V-V-Voice: A Stutterer's Odyssey
Picture: Stuttering Foundation President Jane Fraser (second from left) honors authors Scott Damian, Dr. Alan Rabinowitz, Anna Olswanger and Vince Vawter during its National Stuttering Awareness Week gala at the Lotos Club in New York City.