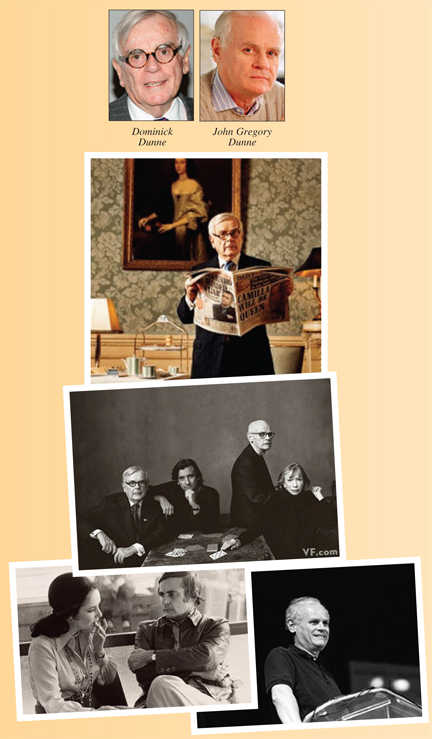 Brothers Dominick and John Gregory Dunne, who died in 2009 and 2004 respectively, are well known as having been famous writers and literary giants.
What the public at large does not realize is that both Dominick Dunne and his younger brother John Gregory not only struggled with stuttering but also were quite open about it.
With the breakthrough in February 2010 of the discovery of some stuttering genes, family members who stuttered were a major part of the studies that led to the exciting identification of these genes. Dominick and John Gregory also had a younger brother, Stephen, who stuttered. The stuttering of these three Dunne brothers is a compelling testament to the genetic links in stuttering.
The Dunne brothers were two of the six children of Richard Dunne, a prominent surgeon in Hartford, CT, and his wife Dorothy, whose Irish immigrant father was the first millionaire businessman in Hartford's Irish community. They grew up in the fashionable suburb of West Hartford. Both went to elite Catholic boarding schools, after which Dominick went to Williams College, and John Gregory to Princeton University.
After serving as a private in the Army following graduation from Princeton, John Gregory earned his first job as the London correspondent for Time magazine by totally fabricating his resume and using phantom references which were never checked. He would go on to have a prolific career as a novelist, screenwriter and journalist.
His novels include Vegas, True Confessions, Dutch Shea, Jr., The Studio, Playland and Monster. With his wife, writer Joan Didion, he co-wrote many screenplays such as A Star is Born, True Confessions, Play It as It Lays, Panic in Needle Park, and Up Close and Personal. He also published many books of nonfiction.
In a May 3, 1982, profile in the New York Times titled "How John Gregory Dunne puts himself in his books," John Gregory Dunne's childhood stuttering was listed as the catalyst for his becoming a writer. Mr. Dunne became a writer, he says, because he stuttered as a child. "Terrified that he would be called on in class, he learned to express himself on paper and to listen to the way that other people talked, becoming in the process an accomplished mimic – a skill that has served him well in writing dialogue."
In his 1989 memoir Harp, John Gregory Dunne wrote extensively how he was affected by the suicide of his younger brother Stephen, a graphic artist who died tragically at age 43. Stephen had not achieved the same level of fluency as had his older brothers Dominick and John Gregory. He wrote about his relationship with Stephen, "We both had a tendency to stammer, and whenever we met, all too rarely the last 15 years of his life, we would discuss stratagems to avoid the minefields of speech. I used to say "howdy" because I would stumble on "hello", and he would say "wee" because he would falter on "little", and when we compared tactics we would dissolve in laughter, a laughter that only another stammerer could understand."
Dominick Dunne began his career in Hollywood producing television shows and live TV movies for Playhouse 90 on CBS. He would go on to produce motion pictures and become an executive producer at 20th Century Fox. Two of the movies he produced were The Boys in the Band and Ash Wednesday, a 1973 film starring Elizabeth Taylor and Henry Fonda. After a painful divorce, Dominick Dunne's out-of-control partying led to his being banished from Hollywood.
On the brink of poverty and after much soul-searching, he wrote his first novel, The Winners, which though not successful, was reviewed in the New York Times. The horrific 1982 murder of his daughter Dominique at the hands of her boyfriend upset his life terribly. As a result, he wrote an account of the murder and trial for Vanity Fair magazine, which in turn hired him to write an article every month; he became the magazine's most prolific writer.
Many of his articles were about crimes committed by the rich and famous; he covered many trials, such as those of Claus von Bulow, the Menendez brothers, O.J. Simpson, Robert Blake, Phil Spector and many more. He became a regular guest on news shows during these trials and a well-known advocate for victims rights. In 1985 he struck gold with the novel The Two Mrs. Grenvilles and many other best-sellers followed, such as People Like Us, An Inconvenient Woman, A Season in Purgatory, Another City, Not My Own, and Too Much Money.
Eight months prior to the release of The Two Mrs. Grenvilles, which was a massive best-seller and catapulted him to fame as an author, Dominick Dunne was profiled in his hometown paper, the Hartford Courant, in an October 21, 1984, article entitled "Success and Tragedy Rework Him."
In the article Dominick Dunne described himself as having been a "stuttering pathetic kid"; later in the article he stated that despite having been a successful television producer and later a producer at 20th Century Fox, his success failed to mesh with his childhood as a child who stuttered, "That image of the stuttering pathetic kid carried through even though it was not an image presented to the world."
In an article titled "A Death in the Family," Dominick Dunne addressed the common stuttering bond shared between him and his younger brother John Gregory in Vanity Fair in March 2004 about the death of John Gregory and their often difficult relationship. He wrote, "John and I had another thing in common: we both stuttered."
While working at Twentieth Century Fox, Dominick Dunne was friendly with their top actress at the time, Marilyn Monroe, who is also on the Stuttering Foundation list of Famous People Who Stutter. More than once the two discussed their past stuttering and how it had shaped them as adults as well as their occasional fears that the stuttering would return someday.
Though the famous Dunne brothers have departed this world, their combined legacy is nothing short of amazing. Their names will be invoked for decades to come in both literary and media circles, but surely no one will allude to the fact that both brothers stuttered. That three children – Dominick, John Gregory and Stephen – stuttered out of a family of six children indicates the role that genetics of stuttering plays. While the two brothers will continue to inspire the literary world for years to come, they would no doubt also inspire countless people who stutter to persevere and not let their stuttering be a roadblock to success.