Cutline: Stuttering Foundation honoree Lyne Pitts talks about the impact of stuttering on her husband, Byron Pitts of ABC News, during a gala event Tuesday in New York City.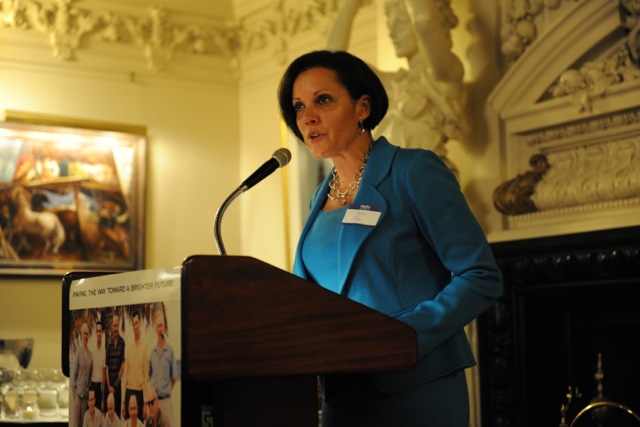 NEW YORK (May 7, 2013) — ABC News anchor and chief national correspondent Byron Pitts was honored today by the Stuttering Foundation at its May 7th gala in New York to celebrate National Stuttering Awareness Week.
"To see Byron on television, you would never know the childhood he endured," said Jane Fraser, president of the Stuttering Foundation, the world's leading charitable organization helping those who stutter.
"Bullying, illiteracy and stuttering were the prologue to Byron's journey to become one of America's most trusted television journalists, and a great advocate for the stuttering community. Byron's story, captured so eloquently in his book, Step Out on Nothing, reminds us all of the profound interconnection between language competency and speech fluency," added Fraser.
Also honored was Lyne Pitts, Emmy award-winning executive producer for CBS' The Early Show and the CBS Evening News.
"As we saw in The King's Speech, a strong and supportive spouse can be an incredible asset to all who stutter. We know that the role of family, and particularly that of the spouse, can be critical," said Fraser.
"Byron loves to tell people he 'married up' – no doubt heralding Lyne's role as supportive wife and loving mother of their five children. They are clearly partners in life who bring out the best in each other and set an example for us all to follow."
The final honoree of the evening was Jeff Zeleny, Senior Washington Correspondent for ABC News.
"Jeff gave an inspired commencement speech at his alma mater, the University of Nebraska – Lincoln, a campus he began visiting at age five for speech and language counseling. He courageously shared his own experiences as a person who stutters with the graduating class and not only detailed his fear of public speaking but also offered sage advice on facing adversity and overcoming one's fears," said Fraser.
Each honoree received the Foundation's "Converting Awareness into Action" Award. 
The Stuttering Foundation's resources for those who stutter and their families are available through:
Toll-free helpline: 800-992-9392
Website: www.StutteringHelp.org
Email: info@StutteringHelp.org
Facebook:  www.Facebook.com/StutteringHelp
Twitter: www.Twitter.com/stutteringfdn
YouTube: www.YouTube.com/user/stutteringfdn
Tumblr: www.stutteringhelp.tumblr.com
Pinterest: www.Pinterest.com/stutteringfdn
###
About the Foundation
Malcolm Fraser, a successful businessman who stuttered, went on to establish and endow the nonprofit Stuttering Foundation in 1947. The Stuttering Foundation provides a toll-free helpline, 800-992-9392, and free online resources on its Website, www.StutteringHelp.org, including services, referrals and support to people who stutter and their families, as well as support for research into the causes of stuttering. Please visit us at www.StutteringHelp.org.