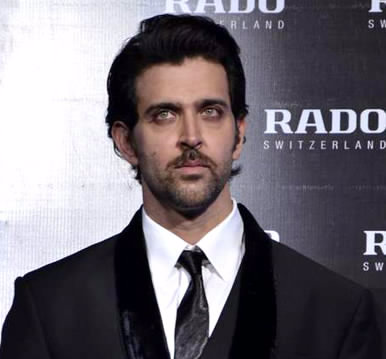 It is likely that few people in North America know the name Hrithik Roshan. He is currently the biggest movie star in Bollywood, and many cinema critics feel that Roshan could be the first Bollywood star to make the transition to Hollywood star. While a major star in Indian cinema, Hrithik Roshan has always spoken openly of his stammering and that he went through speech therapy to speak fluently, not to mention that he still does speech exercises every day. So affected he was by his stuttering, that he has donated generously to a children's hospital for a speech therapy wing, which has put the spotlight on stuttering in the Indian media.
Born in Mumbai, it is small wonder that Roshan became a film star as both sides of his family worked in Indian cinema. His father, film director Rakesh Roshan, is the son of music director Roshan. Hrithik Roshan's mother, Pinky, is the daughter of famed producer and director J. Om Prakash. Also, his uncle Rajesh Roshan is a famous music director.
Born in 1974, Roshan was a child star in some films in the 1980's. He made his major film debut in 2000 in Kaho Naa….Pyaar Hai in 2000, which resulted in his earning Filmfare awards for Best Actor and Best Male Debut. His debut was followed by leading roles in Fiza and Mission Kashmir; afterwards, he received much critical acclaim for a supporting role in the monstrously successful 2001 film Kabhi Khushi Kabie Gham, which had the distinction of being the highest grossing Indian movie in the oversees market up until that point in time. One of his many movies, the 2006 blockbuster Krrish, saw him play a superhero.
Since then, Hrithik Roshan's career has been nothing short of brilliant, making him the biggest film star in India, not to mention the country's top celebrity. He has used his celebrity status to bring attention to his past struggles with stuttering, which has definitely put a human face on the speech problem throughout India.
India was surprised in 2009 when Roshan spoke openly about his stuttering on the popular show Tere Mere Beach Mein. The interview was recounted in a September 26, 2009, article in The Times of India titled "Stammering is Hell: Hrithik." On the show, he spoke about how he was teased as a kid and how he struggled so much to speak fluently so he could fulfill his dream of becoming an actor. He said, "Everything seems normal until you start talking, you get stuck and you don't know why? Right from your toes to the ends of your hair strands, you are in complete shock. Your heart palpitates, you don't understand and you are aware of people looking at you. You can compare it to hell."
When the interviewer asked him until what age the problem continued, Roshan answered, "Six to 35. I am 35." The next question was about if he was bullied at school. "Of course. Unfortunately it is one of those handicaps that is made fun of. Especially kids, you can't blame them but they end up being mean because it looks funny! So the childhood of a person suffering from a problem like this is pure hell. From the time you wake up in the morning to night you almost dread some days …. to wake up! Because you have to go through an entire day when you have to use your speech and have to go through all those little moments of hell."
The coping mechanisms that the actor described on the show appear to be typical of kids who stutter throughout the world. "For oral tests at school, I used to bunk school, I used to fall sick, I used to break my hand, I used to get a sprain. "
On the Indian entertainment news website Spiceeze, a news article on the actor's appearance on the show put forth that Roshan also stated that when he was going through speech therapy and personal practices sessions, he once had to practice for 36 hours just so he could tell his cook what he wanted to eat. Also, it gave the heart wrenching story of when the actor had difficulty on the occasion of accepting his first acting award in what is the Indian equivalent of the Oscars. "I was getting the Best Debut Actor for my first movie in Dubai and I wanted to say, 'I love you Dubai' in my speech at the award function. But I couldn't say 'Dubai'. I wanted to practice saying 'Dubai' but for that I had to scream Dubai loudly. I couldn't do that in my hotel room because my voice was being heard outside. I went to the bathroom and yelled 'Dubai' but even then, it could be heard by people outside. Thankfully there was a big cupboard in the room. I locked myself up in the cupboard and practiced say 'Dubai'. Finally, at the awards function, I was able to say that with a flow."
Around the same time, India Parenting magazine used the shining example of Hrithik Roshan as a guide to help parents of children with challenges.  A laudatory paragraph of the actor began with, "Hrithik Roshan has been dazzling the fans with his killer looks and performance. He with a well chiseled body and Greek God like looks is much sought after Bollywood hero. His charming personality is unmatched and much adulated by both male and female fans. He had a dark secret which is now no more a secret. Hrithik has a speech disorder known as stammering."
"When Hrithik decided that he had to overcome his stammering, he joined speech therapy classes. With determined perseverance and will power, Hrithik could overcome his speech disorder. He used to repeat all the alphabets in different manners so as to have a strong grip on pronunciation thereby boosting his confidence levels. He used to practice in front of a mirror alone in a room for long hours to improve his speech skills. He used to practice and still does for long hours. He is also quite open about his speech disorder and this openness without a feeling of shame or guilt has in turn made him more confident in front of people.' The article continues with the closing statements, 'Hrithik still practices speech therapy everyday for an hour or so as to prevent relapsing into speech disorder again….. Hrithik is now a role model for his fans and truly an inspiration for all those people who have stammering problems. Hrithik has shown that one can overcome anything in life with just a strong will power."
As the starring roles, Best Actor awards and fame continued to escalate, the Bollywood phenomenon did not let up one bit in making his citing his personal example as a way to help others who stutter, particularly children. He made national headlines in early 2011 by disclosing that every book he reads is read aloud. One article, "Hrithik Loves to Read Each Book Aloud" from Mid-Day, stated, "Hrithik Roshan is a voracious reader, and devours most books he sets his eyes on. But what sets him apart from other obsessive-compulsive readers is that he reads everything aloud from books and novels to magazines, and that's been the case since his childhood….. he was able to overcome stammering by reading aloud and stressing on pronunciation and articulation.'
The article went on to quote a close friend of the actor as admitting, "Be it a novel, book, magazine, or anything of the written word, Hrithik reads it loudly to himself, page by page, as recommended by a speech therapist." The article goes on to state that even as far back as his childhood, he would devour all books from mystery thrillers to action-packed novels.
Always speaking out about his struggles with stuttering, there was much media coverage  in November 2008 when the actor appeared at Nanavati Hospital in Mumbai to inaugurate the hospital's audio and speech therapy wing, of which he was a major financial benefactor. Commenting on what the media called "a walk down memory lane", Roshan stated, "All the memories of my past difficulties came spilling out at Nanavati. When I met my doctor who treated me at age 14 for stammering, I could barely control my emotions. It's not easy to be a special child.' He also added about his message to kids, "….I got over it, so will you. I think it is very important for me to convey this message far and wide and I want to do it more often."
YouTube searches of "Hrithik Roshan stammering" and "Hrithik Roshan Nanavati" will bring up interesting video clips, and of course there is a vast multitude of videos on the actor that have nothing to do with stuttering."
The actor donated two million rupees to the new speech and hearing wing in the name of his grandmother Ira Roshan and the department is named after this grandmother of whom he has an infinite amount of fond memories from his childhood. "I shared some great times with my Daadi during my childhood and growing years. Today seeing my name along with hers and being associated with such a project, she must be smiling down.
Born to a Punjabi family, Roshan attended the famous Bombay Scottish School as a child, and went on to earn a bachelor's degree in finance from Sydenham College. In 2000 he married the former Suzanne Khan, who is the daughter of famous actor Sanjay Khan. The couple has two young sons.
To try to recount Hrithik Roshan's accomplishments and accolades as an actor would be a major work within itself.  One recent distinction from December 2012 is that for the second year in a row he was named "the sexiest Asian man in the world" by a poll from a London-based weekly. He beat out many other Bollywood stars. While some critics have speculated that Roshan could cross over and become a major Hollywood star just like actors from other foreign countries have over the decades, it should be noted that if the famed star were to ever make it big in Hollywood, his actions and messages to young people who stutter would reach a worldwide audience and help countless children. However, what is most important is all of the great work that Roshan has done in reaching people who view Bollywood movies and the work that he continues to do. His funding and dedicating a speech center for children is nothing short of heroic. Every time Roshan speaks out in public about stuttering or funds charities relating to stuttering, the fact that he is the biggest star in Bollywood makes his efforts on behalf of children who stammer reap rewards ten-fold to say the least. India and the worldwide Indian community are profoundly lucky to have Hrithik Roshan as an activist for people who stutter. If he ever should cross-over into major Hollywood movies, it is beyond certain that the stuttering community in the U.S. would welcome him with open arms, not to mention that his public statements and philanthropy related to stuttering would reach a worldwide audience.