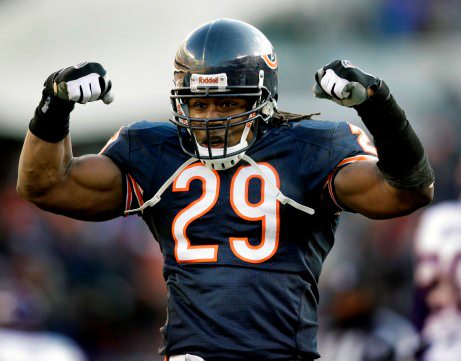 Adrian Nicholas Peterson is known as a former running back for the Chicago Bears in the NFL, but he is more than just an athlete; he is also an inspiration to people who struggle with stuttering.
Peterson was born on July 1, 1979, in Gainesville, Florida. His athletic ability was apparent from the start; he was a two-time all-state, all-area selection and team MVP at Santa Fe High School in Alachua, Florida. His ability to speak publicly, however, did not come so naturally– he struggled with stuttering growing up. He excelled on the field, but was afraid to speak up in the classroom. 
In a 2013 interview with First Coast News, Peterson talked about what it was like growing up with a stutter: "Growing up it was rough starting out. Every kid wants to be normal. My mom and dad noticed I had a speech impediment at the age of four. When a lot of the other kids were doing a lot of talking, I shied away from it. We had to read aloud in class and I struggled. The whole day it seemed like none of my words would come out."
Peterson said he would be teased about his stuttering. "You hear in the background the snickering and laughing and giggling," he said. "But from that point I understood, 'Adrian you stutter. Let's accept it and move forward.'"
In a 2005 interview with The Chicago Tribune, Peterson recalled the encouragement of his father. "My dad, Porter, would always tell me that it could've been worse," he said. "I could've not been able to talk at all. If so, then I probably would've had to take a different route and might never have played in the NFL."
Peterson didn't let other students' teasing stop him, and it paid off. "I didn't change," Peterson told First Coast News. "I didn't change who I was. I was still active with my sports. And in school if I had to do a presentation, it may take me five minutes, 10 minutes or even 30 minutes. But I got up there, stood strong and did it."
Peterson went on to play football at Georgia Southern University, where dominated he from 1998-2001. He finished his college career with 6,559 rushing yards, a Division I football record. He was among the top three vote-getters for the Walter Payton Award in all four of his college football seasons, and he was inducted into the Georgia Southern hall of fame in 2012. He made it to the NFL, and played professionally from 2002-2010 for the Chicago Bears.
Peterson worked with a speech pathologist named Sharon Milner at Georgia Southern and said he still considers her a close friend. Ultimately, however, accepting his stutter was the biggest accomplishment: "Being able to speak is good," Peterson said. "If it takes me 15 minutes to do an interview or two minutes to do an interview, I get my point across without using any other special methods. That means a lot to me."
Now, Peterson spends his time helping others. In September 2012, Peterson published a book called Don't Dis My Abilities, where he discusses his struggles with stuttering and other hardships in his life. He also travels to schools and other events to talk to students who may be struggling with stuttering or other issues.
"You never know who is in the audience when you go to an elementary school and give a speech," Peterson said. "You might have a straight-A student, but he or she might have a speech impediment. Instead of taking that extra step to be an excellent student, he or she might settle for being average because they're embarrassed."
Peterson never let his stuttering get in the way of achieving his goals, and his work speaking to other students who struggle with stuttering provides a much needed source of inspiration and encouragement to the stuttering community. "If I can motivate someone to do what's right, that's great," Peterson said of his school speeches. "I enjoy doing these events. And I just try to do what's right. We're all human, so I wouldn't set myself apart. But I do hope I can help."
Posted Aug. 17, 2015