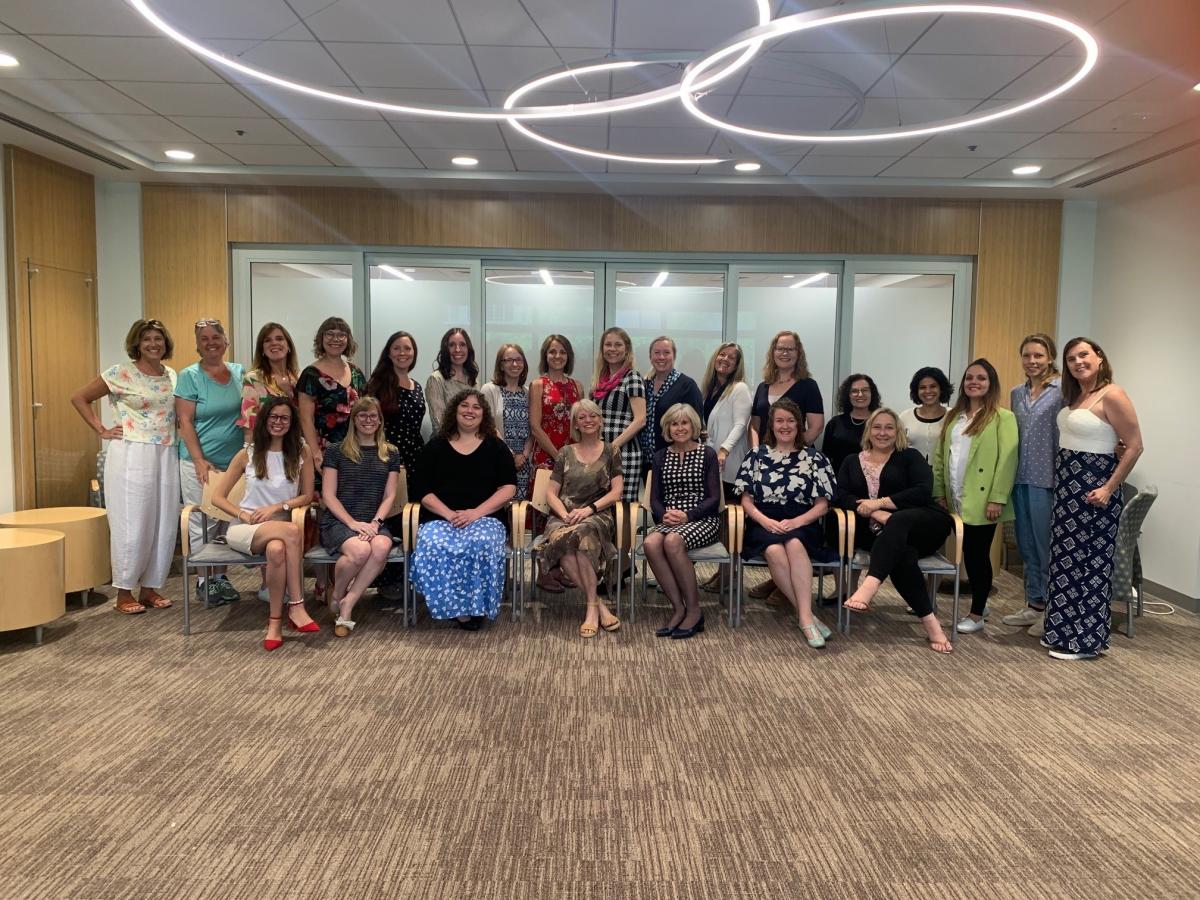 Front row seated from L to R: Susanna Belo, Kate Smidl, Margaret Miller, Diane Constantino, Elaine Kelman, Ali Berquez, Shelly Ransom. Second row standing from L to R: Miriam Velsor, Sarah Coons, Blanca Gonzalez Pescador, Anna Nissen, Melissa Chernis, Jayna Collingridge, Danielle Karthik, Christiane McDonald, Susie Cook, Monika Korpik, Sarah Burns, Katri Luhtalampi, Lauren Gitstein, Francesca Todaro, Claudia Pinto, Ina Jessen-Groeschel, Patrice Kelly
The Eastern Workshop in person! What joy it was to be able to gather in the fabulous newly-refurbished facilities of Boston University, care of our solicitous host Diane Constantino. Twenty-one therapists gathered from eight countries across the globe for a week of professional development under the tutelage of Elaine Kelman and Ali Berquez from the Michael Palin Centre in London.
We covered Cognitive Behaviour Therapy, Solution Focused Brief Therapy and Palin Parent Child Interaction Therapy over the course of the week, earning ASHA CEUs, through a combination of theoretical learning, video observation, skills practice and, perhaps most importantly, personal reflection on one's own understanding, perspective and skills.
The group's openness to new knowledge and approaches was impressive as they let go of the traditional medical model and practiced facilitative and empowering therapeutic styles. Such readiness to learn and change helps each one of us to grow as therapists in order to serve our children, young people, adults and their families. The therapists' feedback at the end of the workshop demonstrated what had been achieved.
Everyone in this workshop felt privileged to be involved in this important opportunity and immensely grateful to the Stuttering Foundation for making it possible.
From the Fall 2022 Magazine