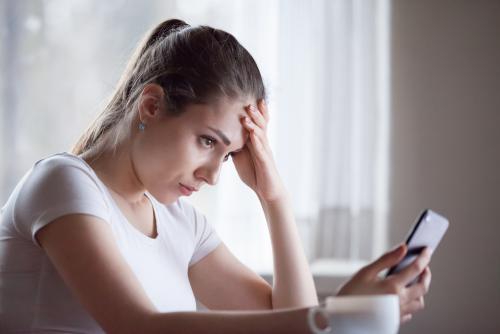 Blog by Rachel Dancy
Jan. 31, 2019
There are times when phone technology is a blessing because of better service and quality, cute emojis and text messaging. All of that is fabulous. But the one thing that technology hasn't improved is making phone automated prompts accessible to everyone. To a person who stutters, the automated phone prompts can be very frustrating. It doesn't understand stuttering, only fluent speech. It prompts one to say your name. Sounds easy...but for most stutterers, saying your name can be quite the hassle. You can't replace it with another synonym, so you try.
"Ra-Rachel."
"Please try again." 
"Rachel." One barrier down, a few more to conquer. 
"Please state the reason for your call. Would you like to schedule an appointment, cancel an appointment, speak to a representative?" More reasons than I can possibly want and all of them more than a word. Ugh. Silence.
"Please make a selection." All of the choices are listed again as if I did not hear the first time.   Hearing is not the problem; it is saying it. After thinking for a few seconds, I need to make an appointment.
"Make an ap-appointment."
"Please try again." I try to really enunciate and scream in the phone.
"MAKE AN APPOINTMENT!"  
"You selected make an appointment. Is that correct? Say yes or no."
"Y-Y-Yes."
"Please try again." Breathe.
"Yes."
"Would you like an appointment for a haircut, manicure, pedicure, mani-pedi, wax or other? Say your choice." It's a good thing I just need a haircut otherwise this would be an incredibly long phone call. Not to mention an incredibly expensive appointment too.
"Ha-Ha-Ha-Hair..."
"Please try again."
"Manicure." Sometimes you have to go with what works or comes out better. I suppose my nails could use some touching up. A hair cut will have to wait.
"Please wait while we connect you." Elevator music plays. At least I am going to be connected to a human being instead of a computer.
"Hello, this is Ruth. Thank you for calling; how may I assist you today?"
"I w-would like to make an ap-ap..."
"Appointment?" she finished for me, which is another pet peeve, but no point in biting her head off.
"Yes, please."
"Morning or afternoon?"
"How about afternoon?" Now I have to pick a day. Looking at my calendar.
Ruth asks, "does Thursday at 2 work out?" Crap. No, it doesn't. On with the conversation.
"N-No, it doesn't. Three o'clock?" Please, please say yes.
"3 pm is available. I will mark you down. Have a good day." Ruth politely says goodbye and I breathe a sigh of relief. Technology might not be the greatest, but stuttering won't get in the way of communicating with other people.