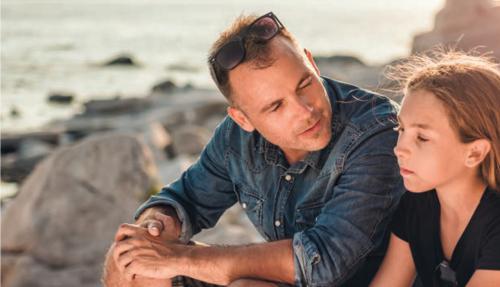 Blog By Rick Arenas, Ph.D.
University of New Mexico
Parents of children who stutter face several unique challenges, ranging from confusion and frustration from trying to understand such an enigmatic issue to knowing how best to help their child when there are conflicting messages coming from the internet, loved ones and even professionals. It is important to have an understanding of the parents experience so that they can receive the best support to improve their quality of life, as well as prepare them to provide a positive environment for their child.
In an attempt to add to the research base regarding parents of children who stutter, a student of mine, Katie Ferguson, and I recently conducted a qualitative study investigating the experience of five parents of children who stutter. We used a narrative approach, where we asked the parents to describe their journey from the time when their child first started stuttering until the present day. We were particularly interested in learning about the role that support groups may play in the trajectory of their journey, so we recruited parents that had attended at least one annual convention of the Friends organization. Friends: The National Association of Young People who Stutter is a national organization that has a large annual convention for kids and parents to connect and create community around the experience of stuttering.
The analysis of the interviews showed that there were many common themes across the parents. All the parents described feelings of confusion, guilt and frustration particularly early in their journey when they were holding on to the belief or hope that stuttering would go away. There was also a common trajectory early on when their child was first in speech therapy and the parents tried to navigate their role in the therapeutic process (Should they expect or encourage the use of speech tools at home?  How often?).
However, the most common factor was a strong turning point in the parent's journey when they attended the Friends annual convention. All of the parents reported a shift in their perspective about stuttering and how this changed how they related to their child's stuttering. Three of the most discussed benefits were: 1) They no longer felt alone as a parent of a child who stutters, at the convention they met many people dealing with the same issues and challenges. 2)  They felt reassured seeing and hearing the stories of older people who stutter who are able to live successfully with stuttering, this reduced the "what's going to happen to my child?" fear. 3) Through hearing the stories and experiences of other parents and people who stutter, they gained more of a sense of acceptance of stuttering.
This preliminary study adds to the growing body of research that shows that support groups are not only beneficial for people who stutter, but also for caregivers of children who stutter.  There are a number of great support groups and resources that can connect people who stutter and family members of people who stutter (see below for a non-exhaustive list).  Whether you are a person who stutters, a caregiver/family member or an advocate, there are many potential benefits of getting involved with the broader stuttering community.
From the Winter 2021 Magazine