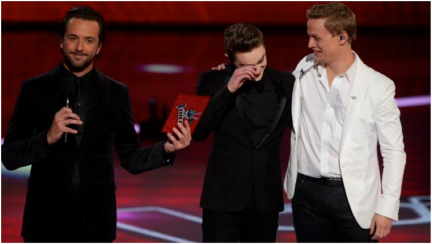 Blog by Voon Pang
June 20, 2013
Two months ago, Harrison Craig wowed us with his rendition of Broken Vow at the blind auditions of the second season of The Voice – Australia. Fast forward ahead to the June 17 and he was crowned the winner of the second season of The Voice. 
Check out Harrison's interview below, moments after he was declared the winner: http://www.youtube.com/watch?v=9wweGX4UHkQ
While I haven't been following The Voice in New Zealand, a mum of an 8-year-old client I work with have. I decided to show them the clip of Harrison's audition about a month ago and since then they have been enamoured by his singing talent, charm and presence. It was also a huge turning point in the therapeutic journey for this boy and his mum as prior to watching the video we had a stumbling block in therapy, where he felt so bad about stuttering that confronting and 'playing around ' with stuttering was too hard and embarrassing. Since then, this child has confidently voluntarily stuttered in the clinic and the level of shame and embarrassment has reduced significantly… To the point where he will use 'bounces' or 'stretches' with other people in the clinic!
The catalyst for change can sometimes be straightforward, much like the example above where one successful snippet of a session can spill into future successes in future sessions. Other times it can be unpredictable and setbacks are encountered before rising above challenges. For those who are brave and persistent, taking a chance can reap ultimate the reward. It's the Lazaro's and Harrison's of the world as that remind us to take those chances and to pursue our dreams, whether we stutter or not.
The Sydney Morning Herald interviewed Harrison following his win and Harrison was quoted as saying that his stutter and confidence has improved since appearing on The Voice.   
"It's (the stutter) not something that bothers or annoys me, it's just part of my life and it will take time to get over, but I will get there," he said.
Reminding ourselves that change takes time and we 'will get there' is something that this 18 year old has obviously learnt through his stuttering journey. Congratulations, Harrison, you are an inspiration to us all!