Contact:
Jane Fraser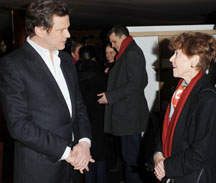 Jane Fraser, president of The Stuttering Foundation, co-author of If Your Child Stutters : A Guide for Parents, 8th edition. Since its founding in 1947 by Malcolm Fraser, the Foundation has provided comprehensive, up-to-date help to millions of people for whom stuttering is a concern.
Jane is a very experienced spokesperson. Here are recent comments:
"Wanted to touch base and say how terrific you were on our show today. You are knowledgeable and engaging on the air, a rare combination. And one that makes for great radio."

- WGBH, Boston's NPR station
"We all thought it went really well-lots of interesting stories from callers, and you were great on the air as well."
Click here
for a list of media outlets that have recently interviewed Jane.