Workshoppers Share the Love in Philly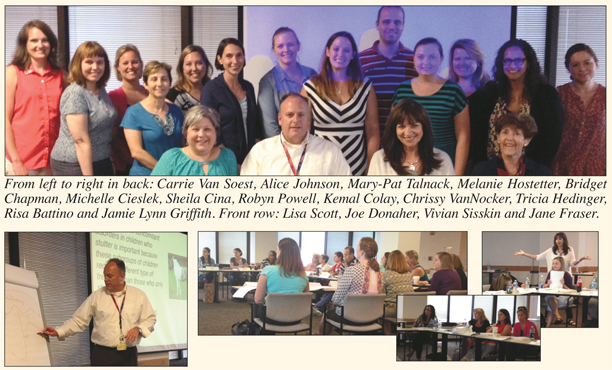 In July, The Children's Hospital of Philadelphia, The Florida State University, and the Stuttering Foundation co-sponsored the fifth Mid-Atlantic Workshop in Philadelphia. Thirteen speech-language pathologists from Arizona, Louisiana, Minnesota, New Jersey, New York, Ohio, Pennsylvania, Tennessee,Virginia, and Turkey met July 7-11 on the CHOP campus to learn how to assess and treat school-age children and adolescents who stutter. The workshop was led by co-instructors Joe Donaher, Children's Hospital of Philadelphia; Vivian Sisskin, University of Maryland; and Lisa Scott, The Florida State University.
The goals of the workshop were to increase participants' skills and confidence in communicating effectively with children, diagnosing the extent and severity of the fluency disorder, developing appropriate treatment plans, designing meaningful therapy activities, and learning to model various speech modification tools. Emphasis was placed on creating relationships with children, families, and teachers that would facilitate the greatest success for children who are working to improve their communication skills. Throughout the workshop, a variety of learning opportunities were used including traditional lectures, guided case planning, small-group practice of the various clinical and relationship skills, and watching videos of therapy sessions. 
The participants and instructors all agreed that the workshop was a great success. "We were so thrilled to have so many clinicians from a variety of work settings devote a week of their summer to learning more about stuttering," said Lisa Scott. Vivian Sisskin agreed, and added "The dynamics of the group were wonderful, and we know we learned as much from these clinicians as they did from us." Joe Donaher was especially enthused about hosting the workshop at CHOP, saying that "The dedication of these SLPs to helping kids is inspirational. Many children will benefit from the talents and interest these individuals have." 
Comments from Workshoppers...
"I have learned a different way of thinking about each client individually. I will be better able to analyze the needs of children and families individually to problem-solve about where to start in therapy."
"I'm encouraged to go back and try to implement strategies I have learned and to teach my colleagues some new information. It is good to know that the presenters are out there to offer support as I continue through this learning process. I hope that the connections I have developed with the presenters and participants will continue to be a source of support."
From the Fall 2014 Newsletter