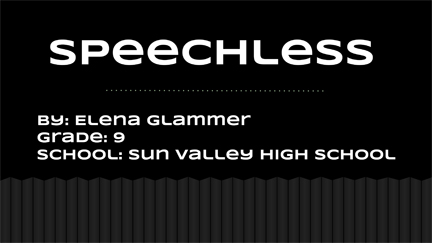 Ninth-grade student Elena, who stutters, took an English assignment opportunity and used her creative talents to present a short story about a group of classmates learning to face their fears, stand up for themselves and others, and discovering that being different is really the same for everyone.
In her story, Speechless, Heather knew her classmate Cory was being bullied by others. Hunter, Landon and Haydon all picked on Cory because he stuttered. Even the school's music teacher mimicked Cory's stutter one time in class. Heather wanted to stand up for Cory and make a difference, but that was a little harder than she expected. 
Busy author Elena, who also sings in the school choir and is a cheerleader, shares some important self-discovery and growth as this group transitions from middle school to high school. Read her powerful and poignant story of observation, inspiration, and action.