Editor's Note: The new DVD Stuttering and the Big Cats featuring Alan Rabinowitz was unveiled during the New York gala.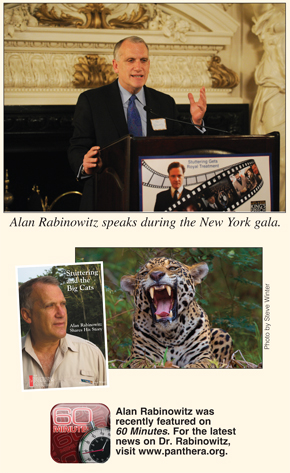 A new film titled Stuttering and the Big Cats featuring renowned American zoologist, conservationist, and field biologist Dr. Alan Rabinowitz is now available on DVD from the Stuttering Foundation.
In Stuttering and the Big Cats, Dr. Rabinowitz, CEO of New York-based Panthera, shares his life-long struggle to overcome stuttering through his work protecting the world's largest and most imperiled cats. The film captures his address to young people who stutter at the annual convention of Friends, a national support group for kids.
Rabinowitz was honored at a gala event in New York City to introduce the film internationally.
"Alan's courage is particularly inspiring to young people whose career paths have yet to be decided and for whom stuttering often seems an insurmountable obstacle. Through hard work, perseverance and dedication to his true passions, Alan never let stuttering hold him back from his quest to help endangered animals," said Jane Fraser, president of the Stuttering Foundation. "We are proud to make this video available and hope that every young person who stutters has an opportunity to hear Alan's story."
"I recall vividly as a child staring at a jaguar as he paced in his cage at the zoo," said Rabinowitz. "He was trapped, seeking a way out of a dark world, something I related to strongly at the time. And I knew then that when I found my voice, I would use it for him, for saving big cats around the world. My love for wildlife and the urgency needed to save the big cats helped me overcome stuttering. This life-long quest has resulted in Panthera – which is now my platform for speaking loudly for, and working to save, some of the planets greatest species."
The availability of Stuttering and the Big Cats is an example of the Stuttering Foundation's "Converting Awareness into Action" effort, which builds upon the overwhelmingly positive attention stuttering has gained through the release of The King's Speech.

-From the Fall 2011 Newsletter