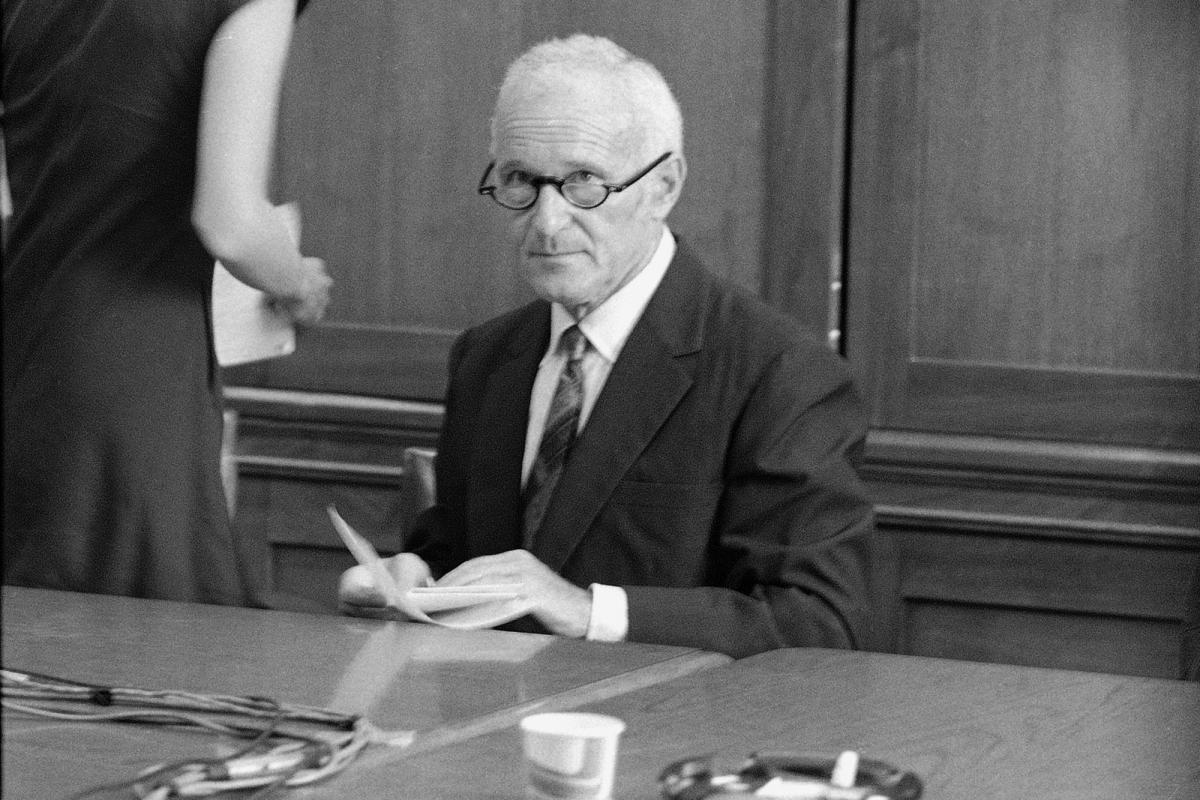 Sidney Gottlieb is the subject of this biographical profile, but it does not fall under the usual "Celebrity Corner" moniker as Gottlieb was not exactly a celebrity. Born in the Bronx in 1918 to Jewish immigrant parents from Hungary, he graduated from the University of Wisconsin, and then received a Ph.D. in biochemistry from the California Institute of Technology. In 1951, Gottlieb began working for the Central Intelligence Agency and soon was promoted by Deputy Director Avery Dulles who shared Gottlieb's enthusiasm for mind control. His March 10, 1999, obituary article in the New York Times sported the headline "Sidney Gottlieb, 80, Dies; Took LSD to the C.I.A." and contained the following in the first sentence, "presided over the Central Intelligence Agency's cold-war efforts to control the human mind and provided the agency poisons to kill Fidel Castro".
While Gottlieb's controversial career cannot be examined in full, his lifelong stuttering is no doubt of interest to the stuttering community. After his famous C.I.A. career, in his retirement years he earned a master's degree in speech therapy from San Jose State University because he wanted to help others who were affected by speech disorders. He received certification in Maryland and for eleven years was a speech-language pathologist in a middle school and a high school.
His childhood and his high school career at James Monroe High School in the Bronx presented challenges for the young Gottlieb who was so eager to succeed in all areas but was tripped up by his speech. In his 2019 biography Poisoner in Chief: Sidney Gottlieb and the CIA Search for Mind Control, Stephen Kinzer wrote: "The other challenge that afflicted Sidney was stuttering. It may have been in part a reaction to schoolmates who, by one account, "viciously harassed" him for his disability. During his high school years, the young man was ostracized. These handicaps might have led another teenager to withdraw into frustration or self-pity, but Sidney emerged resolute and determine to excel."
After graduating high school, Gottlieb attended City College in Manhattan before transferring to the University of Wisconsin. At City College, he excelled in math, physics and chemistry, but also took courses in public speaking, in an attempt to overcome his stuttering. He took courses such as, "Exposition and Rudiments of Speech" and "Declamation and Oration".
A March 10, 1999, article in The Guardian stated, "Gottlieb's most notable feat was to introduce the world to lysergic acid diethylamide, better known as LSD …… On April 18, 1958, Dr. Gottlieb, who was head of the chemical division of the CIA's technical services, wrote a memo listing the ways in which the drug could be used. Gottlieb saw that it could be useful in ways that went far beyond interrogation, and included disinformation, the induction of temporary insanity, sometimes in spectacular ways, and public humiliation of political opponents or obstacles."
Kinzer wrote in his biography, "Gottlieb saw himself as a spiritual person. By most definitions, though, true spirituality means that a measure of compassion and mindfulness informs every aspect of a person's life. That was not the case with Gottlieb. Neither his scientific curiosity, his sense of patriotism, or his acts of private charity justify his years of heinous assaults on the lives of others."
The final paragraph of his biography on Gottlieb states:
"Gottlieb searched relentlessly for inner peace while just as relentlessly laying waste to other people's minds and bodies. He was a jumble of contradictory archetypes: a creator and destroyer, an outlaw who served power, a gentle-hearted torturer. Above all he was an instrument of history. Understanding him is a deeply disturbing way of understanding ourselves."
Sidney Gottlieb, who after retiring from the CIA embarked on a career as a speech-language pathologist to help young people with speech problems, is a noted person who stuttered in history, but not a role model.
From the Fall 2022 Magazine