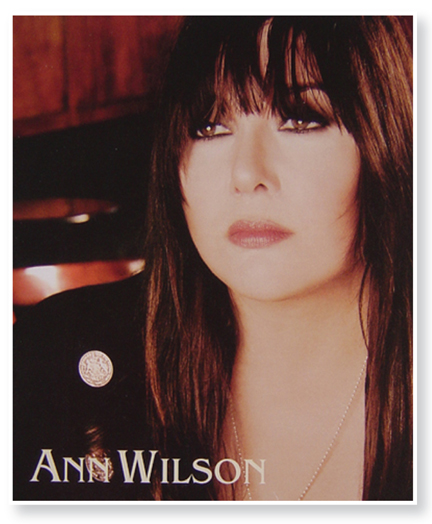 With the worldwide attention given to
American Idol
contestant
Lazaro Arbos
in early 2013, the stuttering community has been heartened by how the young singer has put a human face on
stuttering
.  Articles abound telling how almost all people who stutter can sing fluently.  There are many
famous people
who stutter who have had brilliant singing careers. Some who come to mind are past Stuttering Foundation spokesmen Mel Tillis, Robert Merrill and Bill Withers. Many others can be found on the Stuttering Foundation's list of
Famous People Who Stutter
, such as Carly Simon, Marc Anthony, Gareth Gates and Shane Yellowbird. However, there are some accomplished singers whose stuttering is not as well known. One is Ann Wilson.
In 1976, Heart burst onto the scene with their highly successful debut album Dreamboat Annie. A Vancouver-based band formed in 1974, it featured sisters Ann and Nancy Wilson, on lead vocals and lead guitar respectively. The band has sold 30 million albums worldwide while their early hits "Crazy on You," "Magic Man," and "Barricuda" are, to this day, staples of FM classic rock stations.
The Wilson sisters received the dream of all rock acts by gracing the cover of the July 28, 1978, issue of Rolling Stone magazine.
As the 80's decade progressed,
Heart
drifted into the soft rock genre and beginning in 1985 started a major comeback with a series of power ballads. They scored three Top 10 singles from their album
Heart
with "What About Love," "Never" and "Nothing At All," in addition to the Top 40 hit "If Looks Could Kill." The album also featured the band's first number one hit, "These Dreams," a song written by famed lyricist Bernie Taupin who was Elton John's longtime writing partner, which for the first time featured Nancy Wilson on lead vocals.
Successful tours and more hits have continued since. Currently they are on their "Heartbreak" tour which celebrates their 2013 induction into the Rock and Roll Hall of Fame. 
For the first time, Ann Wilson made a very public statement in an appearance by
Heart
on the daytime talk show
The Talk
in 2011, which is available on YouTube. The famed lead singer said, "Talk about
The King's Speech
, it was kind of a similar story where I just really had a hard time getting a sentence out. People would say 'slow down, slow down,' but that wasn't the problem... I just couldn't make a fluid sentence so when I started to sing and suddenly this unbroken air… and gradually it just kind of smoothed out. I had a lot of kids making fun of me in school, so that made it worse. Reading out loud in class was a nightmare."
A year later, in September 2012, Ann and Nancy Wilson published a joint autobiography titled Kicking & Dreaming: A Story of Heart, Soul, and Rock & Roll in which each sister wrote her own chapters which were presented in a rotating sequence. Ann covers her stuttering in detail. She begins with the statement, "I'd stuttered a small amount in elementary school, but it wasn't until junior high that it defined me.  I became 'the girl with the stammer.'"
Among her reminiscences are some things that most people who stutter will find familiar, such as the humiliation of having to leave class for speech therapy. She wrote, "I started speech classes. At a certain point each day, my teacher would announce, 'Ann Wilson, time for speech class.' Everyone watched me head off. I was mortified. The speech class was a series of recitations, with the concept that if I practiced difficult phases, the stutter would go away. The effect lasted only during speech class. The moment I was back in the homeroom, and the teacher called on me, the vicious cycle started all over again."
Also, she explains a strategic approach to being called on in class. "In junior high, we were often asked to read aloud in class, and this was one of my biggest challenges. I had managed to make friends who helped me with a ploy to make my stutter less obvious. The teacher would have the class take turns reading and we'd cycle around the room. When it was my turn, the boy next to me would finish, and the girl who sat one over from me would immediately start reading, and many times the teacher failed to notice that I had been silent."
With the awesome frenzy of publicity over
Arbos
, which has served to foster a better understanding of stuttering much like
The King's Speech
, the stuttering community should also be very proud of the international successes of Ann Wilson. The personal example of this superstar no doubt can serve to help and inspire young people who stutter.
From the Fall 2013 Newsletter