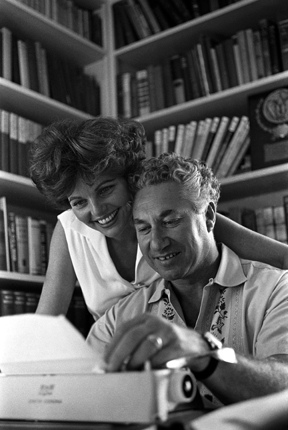 Budd Schulberg at home with his wife Geraldine Brooks. ©Gunther/mptvimages.com. Used with permission.
While Budd Schulberg is best remembered for his Oscar-winning screenplay On the Waterfront, he had a diverse and phenomenal career as a screenwriter, novelist, sports writer, and television producer. Seymour Wilson "Budd" Schulberg was born in 1914 into a powerful Hollywood family. His father was B.P. Schulberg, a movie producer who became head of Paramount Studios, and his mother was Adeline Jaffe Schulberg, who founded a prominent Hollywood talent agency and was an agent for high-profile novels. B.P. Schulberg was able to forge ahead to have a brilliant career despite his struggles with stuttering. His son Budd would certainly follow suit.
After graduating from Deerfield Academy, Budd Schulberg went on to graduate from Dartmouth College in 1936. While a reporter for the Dartmouth student newspaper, he covered a union strike across the Connecticut River in Vermont that pitted a corrupt union hierarchy against the workers that was his inspiration for On the Waterfront.
Every major obituary of his 2009 death mentions his stuttering. His 1981 memoir, Moving Pictures: Memories of a Hollywood Prince, addressed his stuttering from the very beginning. Before revealing himself as a person who stutters, he included dialogue from memories of his younger years to indicate that he stuttered. For example, when making a statement to his father, he wrote, "L-l-look, D-Daddy, I'm m-making a Wilma c-color., which alerts the reader that he was a person who stuttered. Other such stuttering dialogue is used until Chapter Five when he finally reveals to the reader his struggles with stuttering: "Yes, I seemed to be favored by the Gods alright. They lavished everything on me. Except for one oversight. The gift of speech."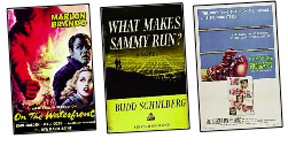 He illustrated the situation by continuing with a definite description of his childhood speech, "Another child would ask me my name and I'd try to say B-b-b-b….', then run home sobbing,'I c-c-c-can't t-t-talk….' 'When I opened my mouth to speak I stammered and stuttered and lisped. To say a word, I would squeeze my eyes together until tears leaked from the corner."
Schulberg described a scenario of his mother taking him to a series of specialists, which was all too common for many children who stuttered in the first half of the twentieth century. He was brought to a couple of doctors and then a psychologist.
He mentioned a conversation with one doctor in which he stated that his own father, the famous B.P. Schulberg, also stuttered, but as an adult only under times of stress. The future screenwriter debunked a lot of urban legends about stuttering and its causes. "One theory is that your mind is working too fast and the tongue can't keep up with it. Another is that stammering or stuttering is an attention-getting mechanism although it seems to me that little Buddy was being smothered in attention."
In his memoir, Schulberg mentioned the positive experience of meeting another person who stuttered on his first day at the prestigious Deerfield Academy in Deerfield, Massachusetts.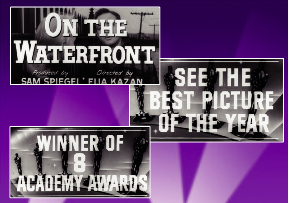 "There had been one early breakthrough. On the first day of school we had been encouraged to introduce ourselves to our dormitory-mates. Passing a tall, earnest-faced young man in the hall, I did my best. 'Sch...Schu... Sch...olberg, La..La...La...Hollywood' (like all stammerers, I couldn't make it with one consonant I tried another), I offered; to which my classmate responded, 'Eee. Eee. Eee... ton T-t-tTarbell, B.. buh.. buh.. BANGor!' I had been teased that way my whole life, and was ready to strike Master T-Tarbell. Until I realized that here was a schoolmate who stammered even more convulsively than I did."
Later on in the book, Schulberg would go into detail how he and Master Tarbell were members of the track team and that the two would relish their sprinting because afterwards they would hyperventilate and have totally fluent speech.
The memoir describes a speech therapy class at Columbia University for children who stutter and their parents. "A group of us would walk around in a large circle, performing like seals, first singing the lines that the therapist gave us, then repeating them in a singsong voice. Ludicrous as it may sound, there was more method than madness in the system. The most extreme stammerer can sing the lyrics of a song without difficulty."
Schulberg cited the example of actress Marion Davies as being a "chronic stutterer" who would break into song if she became "hopelessly stuck in the middle of a sentence".
After Dartmouth, his writing career took off when he and F. Scott Fitzgerald co-wrote the screenplay for Winter Carnival, a comedy set at Dartmouth. Fitzgerald was fired from the project before its completion due to his drinking binges. Schulberg later served in the U.S. Navy during World War II with an assignment to the Office of Strategic Services (OSS) that had him working for John Ford's documentary unit. As a result, he was among the very first American servicemen who liberated Nazi concentration camps. He led a unit that gathered evidence against war criminals for the Nuremberg Trials.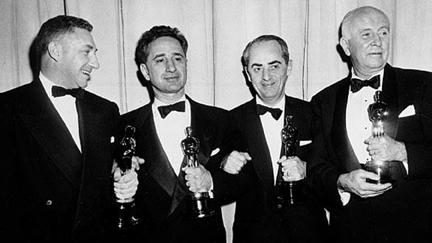 Among the Oscar winners for "On the Waterfront" are, from left, Budd Schulberg (writing), Elia Kazan (direction), Boris Kaufman (cinematography) and Richard Day (art direction).
Returning to the U.S., the aspiring writer shook Hollywood to the core with What Makes Sammy Run?, a scathing novel in which he used his lifelong exposure to the Hollywood film industry as a background. The protagonist Sammy Glick for years afterwards was used as a symbol for the dark side of Hollywood. With What Makes Sammy Run?, Schulberg faced a certain level of ill-will in Hollywood for the rest of his career. His next novel, 1950's The Disenchanted, was a bestseller that was adapted as a Broadway play starring Jason Robards, who won a Tony for the role. In addition, his 1947 novel The Harder They Fall received widespread critical acclaim and was popular. His 1957 screenplay for A Face in the Crowd introduced newcomer Andy Griffith in a starring role as a country singer who rises to stardom only to experience the many dark aspects of fame.
Schulberg is most famous for his 1954 Oscar-winning screenplay for On the Waterfront, a movie which won eight Oscars, including Best Actor, Best Movie, Best Supporting Actress, and Best Director. Starring Marlon Brando as longshoreman Terry Malloy, the story explores how Mob-connected unions controlled the waterfront in Hoboken and were hurting the actual workers the unions seemingly sought to protect. Karl Malden had his most famous role as Father Barry, a priest who crusades to support the workers and end the brutal control of the Longshoreman's union by the syndicate.
The 2009 New York Times obituary of Schulberg credits him with "writing some of the most famous lines in the history of the movies." For example, in On the Waterfront, Brando's character of Terry Malloy says, "I coulda been a contender. I coulda been somebody. Instead of a bum, which I am."
In 2006, Schulberg said in an interview with The New York Times that he tried to use his role as a writer to help people and defend rights. "It's the writer's responsibility to stand up against that power. The writers are really almost the only ones, except for very honest politicians, who can make any dent on that system. I tried to do that. And that's affected me my whole life."
Schulberg died at age 95 on August 5, 2009, in Quiogue, NY, and was working on screenplays in his final years. He left an incredible legacy as a diverse writer. In viewing some of the interviews he did, which appear on YouTube, people who stutter will immediately pick up on the fact that his speech is less than fluid to say the least. For the stuttering community, Budd Schulberg served as a bright light in that he was always very open about his struggles with his speech and refused to let his stuttering hold him back.
YouTube:
On boxing
https://youtu.be/ZEMenb5ZJvI
On F. Scott Fitzgerald
https://youtu.be/XMbtr_25XZI
On Hemingway
https://youtu.be/nSCqYLq68Gg
From the Fall 2016 Newsletter
Save
Save
Save
Save