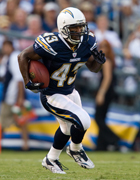 MEMPHIS, Tenn. (April 30, 2008) —  Playing professional football is easier than speaking. Just ask Darren Sproles, the San Diego Chargers football player who made history last season by returning a kickoff and a punt for his first two NFL touchdowns in the same game.
The running back, who became aware of his struggle with stuttering at age 4, says the problem became more pronounced when he was a star football player at Kansas State University.
"I had to talk to the media a lot, and once they put a camera in my face, that's when it got bad," Sproles said. "I just had to work on it. I couldn't really stress about it, because that's just me."
Playing the game has always come easy for Sproles. The spoken word is more difficult.
"I remember a long time ago my grandpa told me: 'Don't ever let anybody tell you that you can't do anything because you stutter.' " Sproles said. "I always remembered that and worked hard at improving my speech."
A free mini-poster of Sproles is available to download from the Stuttering Foundation. He joins other sports legends who stutter, such as Bill Walton, Kenyon Martin, Ken Venturi and Bob Love.
"Darren Sproles will be a great source of inspiration to young people who struggle with stuttering," says Jane Fraser, president of the Stuttering Foundation.
The 24-year-old Sproles is always taking steps to control his stuttering and to help others. He bypassed potential NFL riches following his junior season and returned to Kansas State to complete his degree in speech pathology. Darren got advice from basketball great, Bill Walton, who also struggled with stuttering and is now a successful broadcaster.
Sproles said he learned an important lesson – to take his time while answering questions during an interview. "I don't have to be in a hurry to say something," he explained.
Coming out of Kansas State, Sproles was one of the most prolific runners and all-purpose performers in college football history. He set nearly every school record imaginable - 23 in all - and he is regarded by many as the best player in the 110-year history of Kansas State football. As a 5-foot, 6-inch running back and return specialist with the Chargers, he ranks eighth in the NFL in kickoff return average 26.7 yards and 13th in punt return average 10.1.
For a free copy of the mini-poster, visit www.stutteringhelp.org. For additional resources, call 800-992-9392 or e-mail info@stutteringhelp.org.