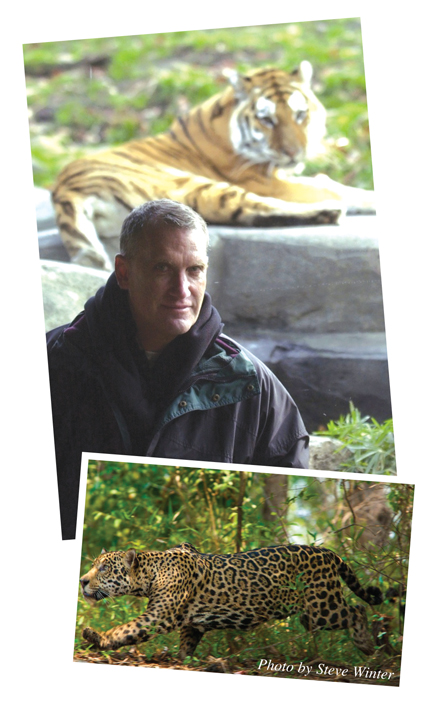 Alan Rabinowitz, Ph.D., passed away in 2018. He served on the Stuttering Foundation Board of Directors. As one of the world's leading big cat experts, he was called 'The Indiana Jones of Wildlife Conservation' by
TIME
magazine. 
Dr. Rabinowitz was CEO of
Panthera
, a nonprofit organization devoted to saving the world's wild cat species. Prior to co-founding Panthera, Rabinowitz served as the Executive Director of the Science and Exploration Division for the Wildlife Conservation Society for almost 30 years.
Making the preservation of the big cats of the world his priority, he received coverage from the top media outlets in the U.S. and abroad. He has almost never failed to bring attention to stuttering in these newspaper articles and news segments by explaining how his early stuttering shaped his life. He explains that he was only able to speak fluently in front of animals and promised some animals, both personal pets and big cats in the Bronx Zoo, that if he were ever to achieve fluency he would fight for their rights.
Traveling the world on behalf of wildlife conservation, Dr. Rabinowitz studied jaguars, clouded leopards, Asiatic leopards, tigers, Sumatran rhinos, bears, leopard cats, raccoons, and civets. His work in Belize resulted in the world's first jaguar sanctuary; his work in Taiwan resulted in the establishment of this country's largest protected area and the last piece of intact lowland forest; his work in Thailand generated the first field research on Indochinese tigers, Asiatic leopards, and leopard cats, in what was to become the region's first World Heritage Site; and his work in Myanmar has led to the creation of five new protected areas. In northern Myanmar, Dr. Rabinowitz also discovered a new large mammal species and the world's most primitive deer, the leaf deer. 
Dr. Rabinowitz authored over one hundred scientific and popular articles and six books, including Jaguar: One Man's Struggle to Establish the First Jaguar Preserve and Chasing the Dragon's Tail. He was also the subject of the acclaimed PBS/National Geographic television special, In Search of the Jaguar and was featured in the BBC special Lost Land of the Tiger filmed in Bhutan in 2010.
Dr. Rabinowitz dedicated his life to surveying the world's last wild places with the goal of preserving wild habitats and securing homes, on a large scale, for some of the world's most endangered mammals. His focus on cats is based on conserving top predators, which affect entire ecosystems. Through the process of saving cats, vast landscapes upon which many species depend on are conserved.
One of Dr. Rabinowitz's greatest achievements was the conceptualization and implementation of the Jaguar Corridor - a series of biological and genetic corridors for jaguars across their entire range from Mexico to Argentina. He also initiated Panthera's Tiger Corridor Initiative, an effort to identify and protect the world's last remaining large interconnected tiger landscapes, with a primary focus on the remote and rugged Indo-Himalayan region of Asia.
He was as passionate about helping people who stutter as he is about protecting wildlife. He is featured in two Stuttering Foundation DVDs: Stuttering and the Big Cats and Keynote Address to Therapists. Each film provides an intimate look inside his life as he discusses how struggling with stuttering shaped his life and his long-time relationship with the endangered species he helps to save.
From the Fall 2012 Newsletter, upated Jan.31, 2020