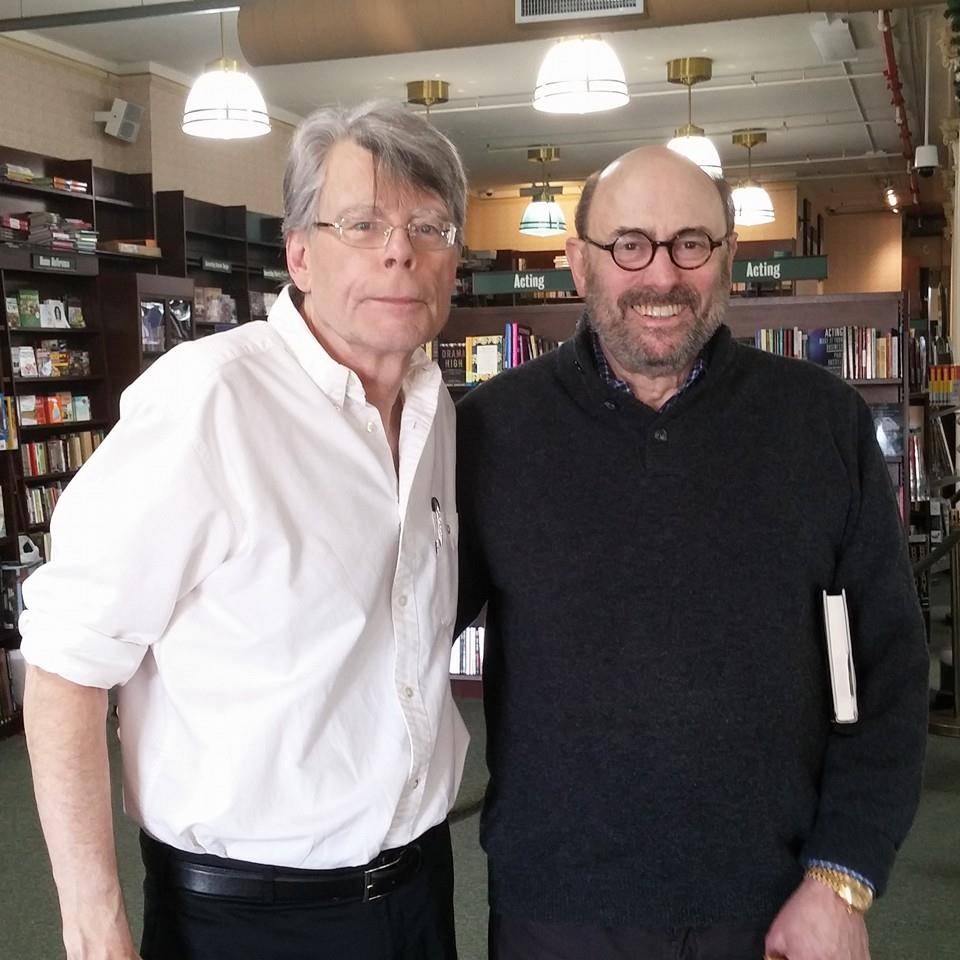 Authors Stephen King
and Peter Straub
A native of Milwaukee, Wisconsin, Peter Straub first began writing as a student at the prestigious Milwaukee Country Day School, and would go on to earn a BA in English at the University of Wisconsin-Madison in 1965, followed by an MA at Columbia University the following year. Following his studies at Columbia, he and his wife moved to Dublin, Ireland in 1969 where he would pursue a Ph.D and also finally begin to write professionally.
A catalyst to his interest in writing ironically also activated his stuttering. His September 6, 2022 obituary in The New York Times, titled "Peter Straub, Literary Master of the Supernatural, Dies at 79", stated, "When he was 7 he was hit by a car and nearly killed. He had to learn to walk again, and the experience left him with a pronounced stutter that he overcame but did not entirely vanquish, so that even later in adulthood it crept back whenever he grew excited." The experience forced the first-grader to spend several months in the hospital, enduring multiple operations.
The obituary article in Entertainment Tonight stated, "Because he had learned prematurely that the world was dangerous, he was jumpy, restless, hugely garrulous in spite of his stutter."
Over the years, interviews with and articles about Straub frequently mentioned his stuttering. His writings in the horror and supernatural genres put him in the same literary camp as novelists who stutter, such as mystery writer Paul Johnson as well as David Shields.
His first two novels, Marriages and Under Venus, published in the early 1970's, were mainstream novels that did not fare well. In 1975, his first attempt at the supernatural was Julia, which put Straub on the map as a novelist. It was made into the 1977 film The Haunting of Julia starring Mia Farrow.
Julia was followed by the 1977 novel If You Could See Me Now, but it was in 1979 with his fifth novel, Ghost Story, that he was catapulted to fame. Ghost Story was made into a 1981 movie of the same title starring Fred Astaire, Melvyn Douglas, and John Houseman.
The New York Times obituary commented, "Mr. Straub was both a master of his genre and an anxious occupant of it. Novels like Julia (1975) and Ghost Story (1979) helped revivify a once-creaking field, even though he insisted that his work transcended categorization and that he wrote how he wanted, only to watch readers and critics pigeonhole him as a horror novelist."
Straub was friendly with author Stephen King, and asked him to write a blurb for Ghost Story, after King read a galley copy of the book. King became enthralled with Straub's work. "We got it at the post office," King recalled. "It was all kind of split open. And so I was driving and my wife opened it and she started to read it to me. And by the time we got back to our house, we were both really excited, because we knew that this was sort of a masterwork."
It was only a couple of years later that Straub suggested to his friend Stephen King that they collaborate on writing a novel. King immediately agreed. The two worked together using then state-of-the-art technology, which consisted of computer-linked modems and dot matrix printers. King later said of this collaboration, "He was a better and more literary writer than I was."
The result of the King-Straub partnership was the wildly successful 1984 novel The Talisman. The November 8, 1984, review by Christopher Lehman-Haupt in The New York Times Book Review began, "What happens when you cross a Stephen King with a Peter Straub? You get talking sea gulls and great balls of nuclear fire that go rolling around the desert like so much radioactive tumbleweed. You get friendly slobbering werewolves and not so friendly ones. You get voices that come out of telephones that sound like cracked, rasping croak of something long dead, some creature which could be seen like the living: the sight of it would drive a living person insane, or strike him dead with frost-etchings on his lips and staring eyes blinded by cataracts of ice."
What followed were many other successful novels that landed on bestseller lists such as Koko, Mystery, The Throat, The Hellfire Club, and Lost Boy, Lost Girl. In 2001, Straub once again teamed up with Stephen King to write bestseller The Black House, which was a partial sequel to The Talisman.
In an interview following Straub's death, Stephen King said about his friend, "He was a unique writer in a lot of ways. He was not only a literary writer with a poetic sensibility, but he was readable. And that was a fantastic thing. He was a modern writer, who was the equal of say, Phillip Roth, though he wrote about fantastic things. He brought a poet's sensibility to the field, creating a synthesis of horror and beauty."
Peter Straub is survived by his wife Susan Bitker, whom he wed in 1966, as well as their children Benjamin and Emma, who has followed in her father's footsteps as a novelist. He joins a distinguished list of writers who have struggled with stuttering.
From the 2023 Summer Magazine