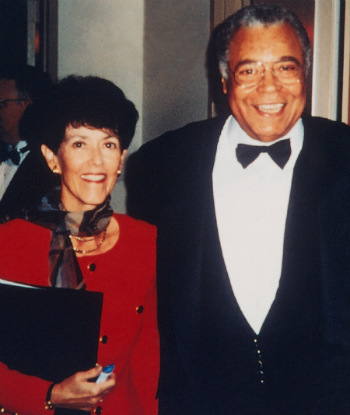 New York City (May 9, 2011) — Jane Fraser, president, The Stuttering Foundation (www.StutteringHelp.org), represented the stuttering community today at the prestigious Monte Cristo Awards dinner honoring legendary actor James Earl Jones.
"James Earl Jones has been an inspiration to the stuttering community for decades," said Ms. Fraser. "He has courageously shared his own personal experiences with stuttering for the benefit of all. When we think of eloquence and fluency of speech, we think of Mr. Jones as the ultimate role model."
The Eugene O'Neill Theater Center presented its annual Monte Cristo Award to legendary Broadway and screen actor James Earl Jones, in recognition of his monumental achievements and contributions to the American and international theater community. The award was presented to Mr. Jones at a gala dinner held in his honor at Bridgewaters – South Street Seaport in New York City on Monday, May 9, at 6:30 p.m.
###
About the Stuttering Foundation
Malcolm Fraser felt the same dread of speaking in public that King George VI experienced in the 1940s. Inspired by the plight of "Bertie", Fraser, a successful businessman and stutterer, went on to establish and endow the 64-year-old nonprofit Stuttering Foundation in 1947. The Stuttering Foundation provides a toll-free helpline, 800-992-9392, and free online resources on its Website, www.StutteringHelp.org.
About The Eugene O'Neill Theater Center
The Eugene O'Neill Theater Center, founded in 1964 in honor of Eugene O'Neill, four-time Pulitzer Prize Winner and America's only playwright to win the Nobel Prize in Literature, is the recipient of two Tony Awards, in 2010 for Regional Theatre, and in 1979 for Theatrical Excellence.
The O'Neill is the country's preeminent organization dedicated to the development of new works and new voices for the American theater. The O'Neill has been home to more than 1,000 new works for the stage and 2,500 emerging artists. Scores of projects developed at the O'Neill have gone on to full production at other theaters around the world, including Broadway, Off-Broadway and major regional theaters.
O'Neill programs include the National Playwrights Conference, National Music Theater Conference, National Critics Institute, National Puppetry Conference, the Cabaret & Performance Conference, and National Theater Institute, which conducts semester-long intensive theater training programs, and Theatermakers – a six-week summer program.
In addition, the O'Neill owns and operates the Monte Cristo Cottage, boyhood summer home of Eugene O'Neill. The museum is a registered National Historic Landmark and is open to the public.