Boston Workshop Deemed Success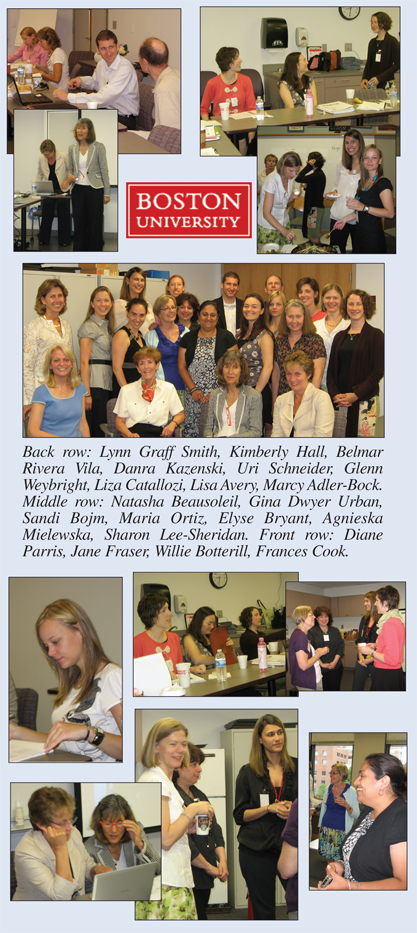 Since 1985, the Stuttering Foundation has conducted intensive summer workshops in order to increase the pool of speech-language pathologists trained in the latest techniques for the treatment of stuttering. This summer was no exception.
The five-day Eastern Workshop, Cognitive Approaches to Parent Child Interaction Therapy, was held in Boston from June 14-18. Co-sponsored by the Stuttering Foundation of America and Boston University, the workshop was attended by clinicians from ten states, Puerto Rico, Canada, and Poland.
"Those who are selected to participate already have professional experience and are highly motivated and have a significant interest in stuttering," added Diane Parris, M.S., of Boston University, coordinator of the Workshop.
Frances Cook and Willie Botterill began the program with a "brief taster" of Cognitive Behavioral Therapy and Solution Focused Brief Therapy for the first two days. The following three days of the workshop were spent exploring Parent Child Interaction Therapy.
Frances and Willie highlighted the role of the clinician as facilitator rather than director of the therapy process.
"My students are enjoying the new information I learned during the workshop," said one attendee. "We did two hours on cognitive therapy and used some of the activities that the workshop instructors did with us. I'm impressed at how these have facilitated my students' learning."
Another said, "This is a significant paradigm shift - one that I will work at gradually incorporating into practice."
"I grew both professionally and personally from this experience," added a workshopper.
-From the Fall 2010 Newsletter