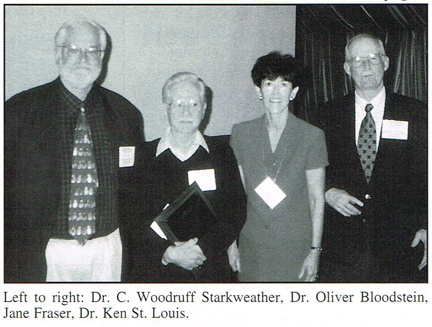 The 1999 Malcolm Faser Award, which honors excellence in the field of fluency, has been presnted by the Stuttering Founation of America to Oliver Bloodstein, a speech-language pathologist. Bloodstein is a Professor Emeritus of Speech at Brooklyn College of the City University of New York and has served on the school's faculty for almost 50 years. Bloodstein received a plaque and the $2,000 award at the sixth Annual Division 4: Fluency and Fluency Disorders in San Diego on June 5, 1999.
Said Dr. Nan Berstein Ratner, "Professor Bloodstein has had an indelible effect on my life as a researcher. I would not be in the field today if it were not for his studies in the early 1970's."
In addition to his long career at CUNY's Brooklyn College, Bloodstein has published almost 40 articles and book chapters, and three books — the research works that shaped our modern view of stuttering.
His best-known contribution to the filed was A Handbook of Stuttering, first published in 1969 and considered a lardmark text. The most recent edition was published in 1995 and Bloodstein's continued updating and publication of this comprehensive, objective, and insightful work has been a significant accompishment. The Handbook continues to be one of the most important works for researchers, teachers, therapists, and ultimately to the many stutterers and their families who benefited from it.
Dr. C. Woodruff Starkweather, who nominated Bloodstein for the award, remarked, "His person-to-person encouragement of young reseachers was certainly his most characteristic contribution. That encouragement was motivated by a pure desire to see research into stuttering advance."
Bloostein, an ASHA Fellow, received the Honors of the Association in 1989. The New York State Speech-Language Hearing Association, which Bloodstein helped found, awarded him its Honors in 1970 and a Professional Achievement Award in 1984. Bloodstein has also served the field in administrative positions and on editorial boards, on ASHA's Clinical Certification Committee and as a Legislative Councilor-at-Large.
The Malcolm Fraser award has been presented annually by the SFA since 1997, honoring excellence in the field of fluency through service delivery, research, support for persons who stutter, or professional training or development of clinicians. The organization was started in 1947 by the late Fraser, a philanthropist and business leader who learned to cope effectively with his own significant stuttering problem. Said Jane Fraser, current SFA president who is Malcolm Fraser's daughter, "There is no one more deserving of this award than Dr. Bloodstein. He is such an outstanding scholar and a gentleman in the finest sense of the word."
From the Fall 1999 Newsletter