Stuttering Foundation Continuing Education Catalog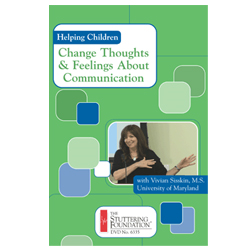 For many children who stutter, successfully managing communication involves more than just changing speech. In this 2-hour, 55 minute video, renowned clinician Vivian Siskin, M.S., CCC-SLP, of the University of Maryland, presents a multidimensional approach as a foundation to help children address thoughts and feelings that sometimes co-exist with stuttering. She offers concrete strategies to help children become more mindful about communication, to answer others' questions about what stuttering is and why they talk the way they do, and to recognize how feelings influence their behavior.
This course is offered  for 0.3 ASHA CEUs (Intermediate level, Professional area).
FINANCIAL DISCLOSURES: Vivian Siskin receives a salary from the University of Maryland and received an honorarium from Stuttering Foundation for teaching the lecture. NONFINANCIAL DISCLOSURES: None