Stuttering Foundation Continuing Education Catalog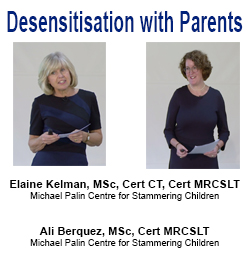 Brand New Course!!!
Desensitisation with Parents-Video plus CEU Assessment

Desensitisation has long been recognized as an important component of therapy for children who stutter. In this 1-hour presentation, Elaine Kelman, MSc, Cert MRCSLT and Ali Berquez, MSc, Cert MRCSLT, of the Michael Palin Centre for Stammering in London explore the process of desensitisation and its potential benefits for parents and their children who stutter. The construct of desensitisation is defined and a description given of how traditionally it has been incorporated into therapy with adults and children who stutter. They discuss the rationale of desensitisation and the benefit of including parents of children who stutter of all ages in the therapy process. They present research evidence about the impact of a child's stuttering on parents.  The presentation focuses on clinical methods for desensitising parents of children who stutter using examples of activities conducted in group and individual therapy with parents at the Michael Palin Centre in London.

This course is offered for 0.1 ASHA CEUs (Intermediate level, Professional area).

Disclosures: Financial--Elaine Kelman and Ali Berquez received honoraria for their work on this presentation. Non-financial--Elaine Kelman and Ali Berquez have no non-financial relationship with the Stuttering Foundation to disclose.