Lyne Pitts Honored in New York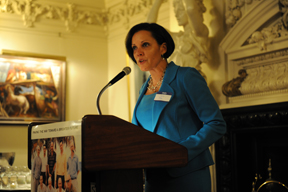 Video from Gala [1]
NEW YORK (May 7, 2013) — Lyne Pitts, an accomplished television producer and writer, and wife of ABC News journalist Byron Pitts, was honored today by the Stuttering Foundation, the world's leading charitable organization helping those who stutter. The event, held in New York City, celebrated National Stuttering Awareness Week.
"Lyne Pitts is such an inspiration and a wonderful role model for the entire stuttering community," said Jane Fraser, president of the Stuttering Foundation. "As we all witnessed in the The King's Speech, a strong and supportive spouse can be such an incredible asset to people who stutter. We know that the role of family, and particularly that of the spouse of a person who stutters can be critical.
"Byron loves to tell people he 'married up' – no doubt heralding Lyne's role as supportive wife, loving mother of five children, experienced producer and accomplished writer. They are clearly partners in life who bring out the best in each other, and set a wonderful example for us all to follow."
For the example she sets for others to follow, Ms. Fraser presented Mrs. Pitts with the Stuttering Foundation's "Converting Awareness into Action" award for her contributions to the stuttering community.