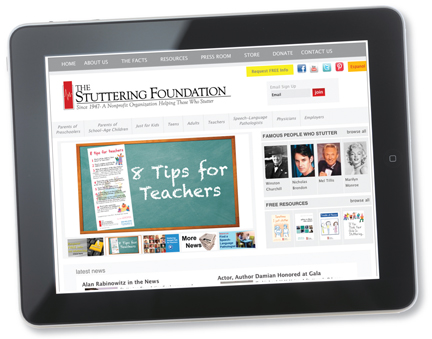 After months of research, designing, brainstorming, and hard work, the Stuttering Foundation's new website,
www.StutteringHelp.org
[1]
, went live Saturday July 28. 
"We are excited to bring a new and improved resource to the public," said Jane Fraser, president of the Stuttering Foundation. 
With more than 3 million hits per month, the Stuttering Foundation continues to be the go-to site for the most accurate and current information on stuttering.
More than a mere facelift, the site underwent a transformation from top to bottom. The aim is to make the site more user friendly while providing accurate information. 
Among the many changes you will notice are the new tool bars. At the top of the home page you can choose from broad categories such as
The Facts
[2]
,
Resources
[3]
, go directly to the
Store
[4]
, or
Contact Us
[5]
.
Every category offers opportunities to click on Related Pages for additional relevant information. At every turn you are offered the opportunity to "
click here to request FREE information
[15]
."
Many of our resources are available free online, with just a click of a mouse. There are eight streaming videos under the
video link
[16]
, offering help to parents, school-age children, teens, adults, and teachers. There are 10 book resources under the
free e-book link
[17]
, again offering direct help for parents, children, and adults. Additionally, you can download and print all 32 of our brochures and flyers with numerous options to print the materials in
other languages
[18]
.
The latest news from the Foundation's
current newsletter
[19]
keeps you up-to-date on research, inspirational stories, people on the go, updates from past stories, activities and support from people around the world involved in stuttering, professional opportunities, and much more.
On the
Just for Kids page
[20]
, you will find letter after letter – and some exceptional art work – from our young friends who stutter, sharing their stories of success, challenges, advice, and encouragement. These terrific kids teach us all a thing or two, and that's a fact.
While there is so much more to mention, it would be better to visit the website today and spend some time looking around for yourself.
"We think you'll be amazed at the wealth of information available, and the ease with which you can access it all," Fraser concluded. 
Finally, your feedback is welcome. If you have an idea for improvement, or a specific need that you don't see being met, e-mail
info@stutteringhelp.org
[21]
. With your help, this new website will be the best ever.
Interesting Facts About StutteringHelp.org
• 43 million hits per month.
• Over 900 web pages.
• After the United States, most web traffic comes from India and Sweden.
• Famous People brochure is the most downloaded.
• New blog [22] allows interaction with readers.
• There are materials in more than 31 languages [18].
From the Fall 2012 Newsletter